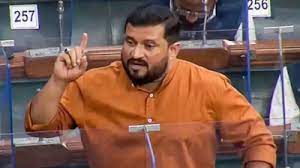 NEW DELHI: The Lok Sabha Secretariat on Wednesday restored the membership of NCP leader Mohammad Faizal, who was disqualified from the lower house in January following his conviction in a criminal case with a 10-year jail term.
Faizal, who represents Lakshadweep, had moved the Kerala High Court against the sessions court order and obtained a suspension of his conviction and sentence.
"In view of order dated 25.01.2023 of the High Court of Kerala, the disqualification of Shri Mohammed Faizal P. P., notified vide Gazette Notification no. 21/4(1)/2023/TO(B) dated the 13th January, 2023 in terms of the provisions of Article 102(1)(e) of the Constitution of India read with Section 8 of the Representation of the People Act, 1951, has ceased to operate subject to further judicial pronouncements," the Lok Sabha Secretariat notification said.
The restoration of Faizal's membership comes ahead of a Supreme Court hearing in the matter.