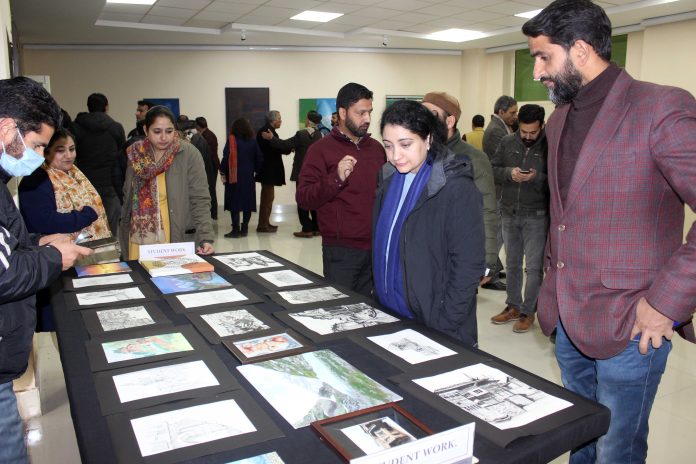 Awantipora: The Wastoorwan Gallery of Art, IUST hosts five days' painting exhibition  under the theme Memory & Metaphor, in which reputed artists are showcasing their work. The event was inaugurated by renowned poet and social activist Zareef Ahmad Zareef in presence of, Prof Shakil Ahmad Romshoo, Vice Chancellor IUST. The artists who attended the exhibition include Aftab Ahmad, Nabeel Sultan, Zahoor Zargar, Zahoor Ahmad Shiekh, Shafi Chaman and Aslam Naqshbandi. Other artists whose paintings were exhibited include Masood Hussain, M.A. Mehboob, Shujah Sultan, Iftikhar Jafar, Sheikh Zahoor, Arshad Sualeh, Rakesh Kumar, Arsalam Dhar, Shafi Chaman, Sameena Maqsood and Fiza Shah. 
Welcoming the guests, Prof. Fozia Qazi, Director Wastoorwan Gallery of Arts said that in today' challenging times, art becomes a means for reflection and contemplation and such events usher in a fresh breath.
Chief Guest of the occasion, Zareef Ahmad Zareef said that art brings us closer to our innate sense of creativity and answers our inquisitiveness. He said that Kashmir has a rich legacy of culture and it is our bounden responsibility to preserve this culture for posterity. He appreciated the efforts of the IUST and said that this is great service towards society.
Vice Chancellor IUST welcomed the guests present on the occasion complimented the organizers on hosting the exhibition and highlighted the role of academia in the preservation of art, culture and heritage. He said we have inherited rich and diverse art and culture, spread over five millennia and such exhibitions help us to educate the common masses and students to appreciate our legacy.
The event was also attended by Prof Sidiq Wahid, former Vice-chancellor IUST, Prof. Manzoor Ahmad Malik, Dean of Academic Affairs, Registrar, Prof Naseer Iqbal, Sameer Wazir, Finance Officer, Director of Wastoorwan Gallery of Arts, Prof. Fozia Qazi and HODs and other officers, etc.