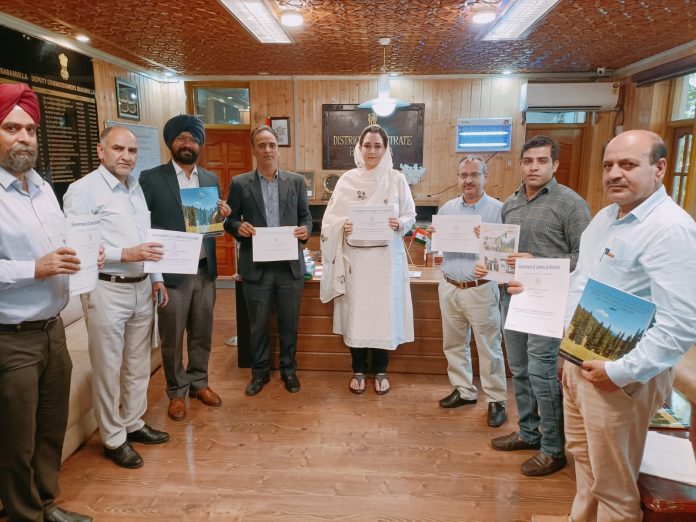 BARAMULLA: The District Development Commissioner (DDC) Baramulla, Dr Syed Sehrish Asgar today held a brief presentation at her office chamber during which she released seven Publication digests.
The Publication digests released on the occasion include District Statistical Handbook, District at Glance, Economic Review, Village Amenity Directory, Migratory Tribal Census 2021 and Report on ODF Survey and Evaluation Study on PMAY-G in district Baramulla.
Additional District Development Commissioner (ADDC) Baramulla, Aijaz Abdullah Saraf; Additional Deputy Commissioner (ADC) Baramulla, Zahoor Ahmad Raina; Joint Director Planning, M Yosuf Rather; SDM Uri Harvinder Singh; District Statistical Officer, Ishtiyaq Ahmad Khan were present on the occasion.
The publications are covering various aspects of the District economy including achievement recorded by various departments in 2021. Ist Migratory Tribal Census gives basic insight into the socio-economic condition of the migratory population including various aspects like education, health, veterinary facilities etc.
Similarly, ODF survey gives insight into availability of IHHl to each household in the district, segregation of waste material at HH level status of Open dedication in District etc.
The other books have captured the development scenario of the district related to all sectors.
Speaking on the occasion, the DDC praised the efforts of the writers for bringing out such a useful publication. She said the books have presented a real picture of Baramulla district on a developmental map that will guide us properly for the next coming years to improve on the developmental front.
She further added that the developmental plans in future will be carved out according to the information provided so that we can improve on the developmental front.