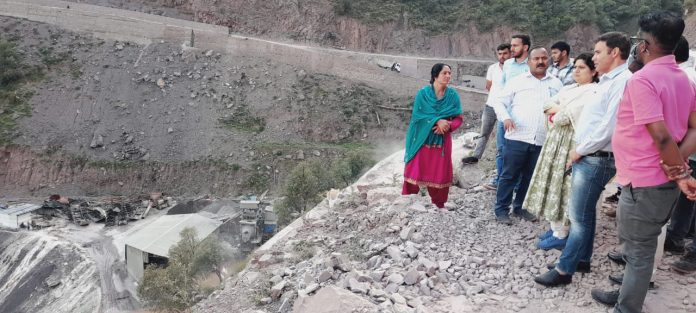 JAMMU: Deputy Commissioner Reasi Babila Rakwal today conducted an extensive tour of villages Sarthal Kote and Khanikote of Block Arnas.
She also listened to the public grievances at the Block Diwas programme held near CFC Khanikote. The DC acquainted the locals about various Central and UT sponsored schemes for the promotion of entrepreneurship in agriculture and allied sectors. She urged the people to reap the maximum benefit of these programmes meant for the socio economic uplift of rural areas.
PRIs projected several demands pertaining to the rural connectivity, power scenario, school education and drinking water facilities.
They demanded early restoration of the khuls damaged during the construction of roads by railways and the PMGSY department.
The Deputy Commissioner directed the executing agency to ensure speedy restoration of these khuls. Issues regarding shortage of staff in the schools in Khanikote Panchayat, besides inflated bills of electricity were also raised by the general public & PRI's. They also complained about scarcity of water.
The Deputy Commissioner directed the executing agency for immediate maintenance and repair of existing water supply schemes till the completion of Water Supply scheme under JJM. Issues regarding land compensation and crop compensation were also raised.
Earlier, the DC laid the foundation stone of Water Supply Scheme Khanikote and Sarthalkote. She also visited Government High School Khanikote and directed the executing agency R&B to verify the status of the school building. She directed the Executive Engineer REW to prepare estimates of the work for the construction of Protection wall at GHS Khanikote under PRIs grant.
The Deputy Commissioner also inspected construction sites of Udhampur–Banihal-Srinagar Railway project. She inspected bridges & tunnels at Dugga & Sarthalkote. She also assessed the collateral damages and issued on the spot directions for resolving the issues at the earliest.
The DDC took a detailed review of the funds released by the railway department after the conduct of the survey by a team of WAPCOS for the restoration of the damaged Water Supply Schemes .
The DC was accompanied by Additional District Development Commissioner Reasi, Additional Deputy Commissioner Reasi, Assistant Commissioner Development Reasi, Assistant Commissioner Panchayat Reasi and other district/ sectoral officers including Executive Engineers of the line department. Chairperson, Block Development Council Arnas also attended the Block Diwas.