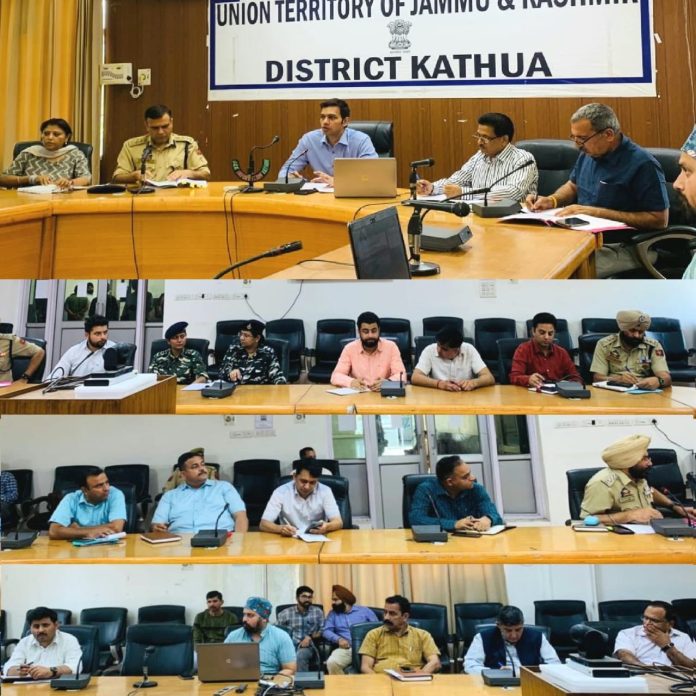 District admin gears up to establish robust mechanism to respond efficiently to distress calls during exigency
KATHUA: Deputy Commissioner, Kathua Rakesh Minhas today discussed the implementation of flood protection measures in a meeting convened in the conference hall of DC office complex, today.
At the outset, the DC outlined the importance of inter departmental coordination in dealing with any emergency during the ensuing monsoon season. He emphasized the need of everyone associated with the task of implementation of anti flood measures to work with coordination so that life and property of people especially inhabitants of flood prone areas shall be safeguarded.
It was decided in the meeting that a Control Room would be established at District Headquarters to monitor the transmitting information regarding the behavior of floods to all stakeholders besides initiating relief, rehabilitation and reinforcement during crises. He said a robust mechanism shall be adopted to provide immediate response and relief to all distress calls received at the dedicated Control Room.
The DC also called for providing proper training to the people to be assigned with Control room duties to handle crises situation efficiently.
The DC directed the Executive Engineer Flood Control, Division Kathua to frame a roaster of flood duty charts to monitor the behavior of rivers and nallahas and communicate the flood messages to the main control room. He also called upon them to identify low lying areas besides inspecting Flood Protection Bunds and submit the status report within 15 days time.
The DC laid thrust on taking PRIs on board to devise a workable mechanism to deal with flood situations.
While discussing the vulnerability of people associated with Mineral Mining along with families living in low lying areas, the DC directed Police authorities for proper manning of Mining routes during the rainy season, further directed ADC Kathua to identify locations where temporary rehabilitation of evacuated families can be ensured.
The DC called upon the Municipalities and Irrigation department to complete the desilting and clearing of drainage system work of respective areas before the onset of the rainy season.
For better coordination and timely help, the Police Department has been requested to depute wireless teams at identified locations of the district.
Pertinently, there are four main rivers namely Ujh, Raavi, Naj, Bhini and hundreds of local nallahas where medium to major floods are expected during monsoon season.
SSP Kathua Shivdeep Singh Jamwal, ADC, Kathua , ADC, Billawar, ADC Basohli, ACD, Chief Medical Officer, Executive Engineers of Irrigation, PWD(R&B), JKPDCL, Jal Shakti and other concerned officers were present in the meeting.