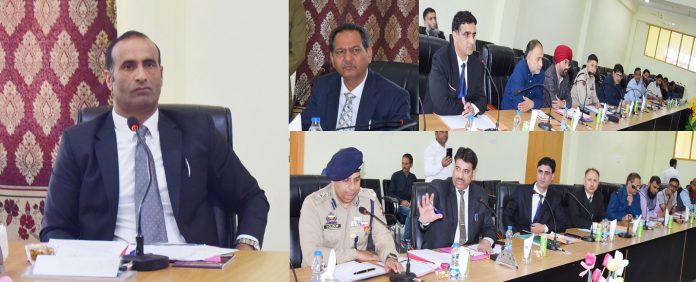 PULWAMA: Acting on the directions of Chief Justice, High Court of Jammu and Kashmir and Ladakh, the coordination committee meeting of various stakeholders of justice delivery system of district Pulwama was held in the Conference Hall of District Court Complex, here.
Principal District and Sessions Judge (PD&SJ), Pulwama (Chairman Coordination Committee) Naseer Ahmad Dar chaired the meeting.
Additional Sessions Judge, Pulwama O.P. Thoker; Chief Judicial Magistrate Pulwama, Mansoor Ahmad Lone; Secretary of the Committee, Susheel Singh Rangeela; Secretary DLSA, Pulwama, Majid Farooq; Munsiff, JMIC, Pulwama, Mohammad Yousuf Chowdhary; SSP Pulwama; ADC, Tral, Sajid Yehya Naqash; ACR, Pulwama, JDP for Pulwama/Anantnag, Bar President Bar Association Pulwama, S.E., PDD Pulwama and Shopian, Dy.S.P., Awantipora, District Floriculture Officer, Pulwama, Superintendent Jail Pulwama, AEEs and other concerned attended the meeting.
PD&SJ Pulwama highlighted the aim and objective of the meeting.
The meeting discussed ways and means for ensuring delivery of timely justice to the litigants besides other issues.
The PD&SJ, Pulwama emphasized upon the participants for streamlining and enhancing the level of coordination between the courts and other stakeholders for strengthening the justice delivery system.
SSP Pulwama assured that the security has already been enhanced in and outside the court complex in view of the assignment of the Charge of special court under NIA Act to the court of Additional Sessions Judge, Pulwama.
The chairman of the committee extended gratitude to all the participants of the meeting and appreciated the steps taken by stakeholders to address and resolve various issues raised in the meeting.