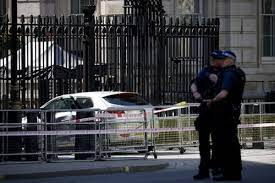 LONDON: A man was arrested on Thursday on suspicion of criminal damage and dangerous driving after a car crashed into the gates of 10 Downing Street in London, the official residence of British Prime Minister Rishi Sunak, the police said.
Sunak was in his office at the time of the incident but left soon after from another exit, sources from 10 Downing Street said.
The cordons placed by police around the street have since been lifted.