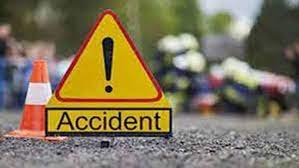 SIDHI: Seven people were killed and two others injured when a dumper-truck overturned on a sports utility vehicle (SUV) in Madhya Pradesh's Sidhi district on Thursday, a police official said.
The accident took place between 9.30 am and 10 am on Sidhi-Tikari road near Dol village, Sidhi Superintendent of Police Ravindra Singh told reporters.
The dumper-truck first collided with the SUV and later overturned on it, killing seven people, he said.
A police team rushed to the spot, he added.