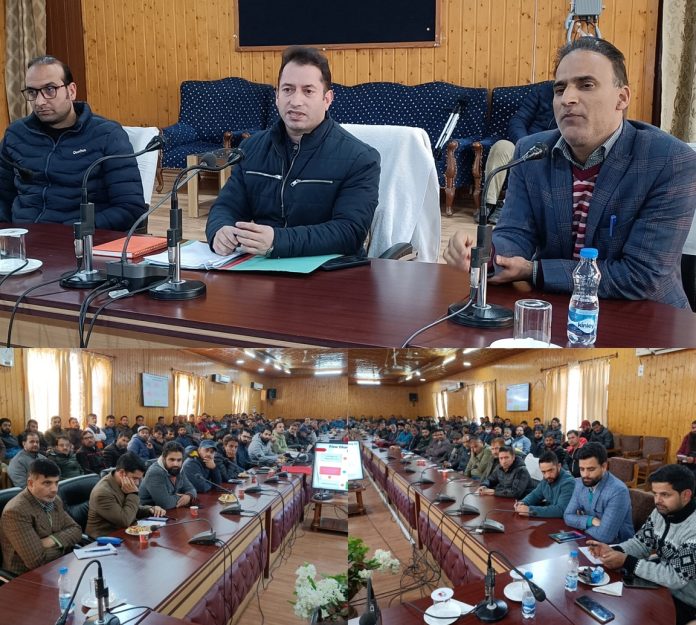 BARAMULLA: The District Administration Baramulla today organised a two days training programme for Revenue staff at Dak Bungalow, here. R
Regional Director Survey and Land Records Kamraz, Khursheed Ahmad Shah presided over the Training Programme for the digitisation of Masavis.
The training was imparted to Naib Tehsildars, Girdawars, and Patwari for the digitisation of Masavis and to preserve the data available in the documents to facilitate its easy storage, retrieval, and greater access to the public and functionaries of the department and also to integrate with Revenue Records in UT of Jammu and Kashmir.
Digitization of Masavis and its linkage with textual data i.e. RoR (Records of Rights) is envisaged to provide the services related to land records and monitor revenue administration across the UT in order to improve the administrative processes.
The objective behind the Digitization of Cadastral Maps (Masavis) is to digitize cadastral maps in the UT and linking of the same with textual data (RoR) and more services will be extended to the citizens.
Additional Deputy Commissioner Baramulla, Dr Zahoor Ahmad Raina, Assistant Commissioner Revenue, Peerzada Mumtaz Ahmad, Tehsildars, Naib-Tehsildars and other Revenue field staff participated in the training session.