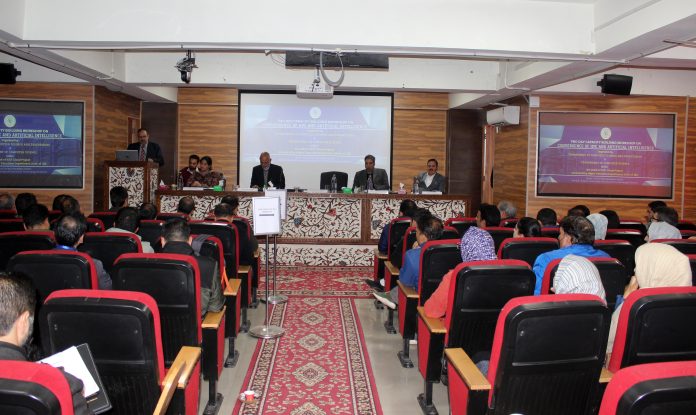 Awantipora: A two-day capacity-building workshop on the Convergence of
HPC and Artificial Intelligence began at the Islamic University of Science and Technology
Awantipora today. The workshop organized by the Department of Computer Science and
Engineering and Department of Computer Science, IUST is sponsored by the Higher
Educational Department, Government of Jammu and Kashmir.
The workshop aims to enhance the capacities of college teachers about recent developments
in the domain of Artificial intelligence and how High-Performance Computing (HPC) and
utilization of state-of-the-art AI algorithms created by IUST. Besides scholars and faculty
members from IUST, about forty teachers from different colleges of the union territory are
participating in the workshop.
Addressing the participants, Dr. Shakeel Ahmed Romshoo (Vice Chancellor IUST & Chief
Guest of the workshop) mentioned that such capacity-building programs are imperative for
enhancing the capacities and competence of our trainers and creating a learning environment
for AI education. He encouraged colleges should network with universities like IUST to
undertake collaborative projects. He also talked about the role of HPC in areas like climate
change, disaster management Artificial Intelligence and Machine Learning. He further said
that IUST is planning to introduce a Masters program in Artificial intelligence.
Prof. Manzoor A. Malik (Dean Academics, IUST) talked at length about the role of HPC in
physics. He said, "the present technology is advancing at a tremendous pace and the one
lagging is out of the race within minutes". He appreciated the efforts of IUST Computer
Science department for working on projects that aim to develop solutions to the
contemporary problems of society.
Prof. Naseer Iqbal (Registrar IUST and a professor of Physics) discussed the role of HPC in
astrophysics and related study areas. Highlighting the importance of technology and AI, Prof.
Iqbal said, "IUST is excelling in many areas, and is at the forefront in the digitalization of
several procedures at the University. He expressed his optimism that IUST will soon emerge
as a University of excellence with a reputation as a research institution across the globe".
Professor A H Moon, Dean School of Engineering and Technology & Dean Research IUST
spoke at length about the relevance of good quality research at academic institutions and
appreciated the role of IUST for the same. He said, "the research canvas of IUST has
undergone a tremendous change' Discussing the concept of parallelism and distributed
computing, and its relevance in contemporary society, he further said, "IUST has succeeded
to mount HPC on a cloud and has made it accessible to other researchers and trainers".
Speaking about the purpose of such training, Dr. Asif Assad (Faculty, Department of
Computer Engineering, IUST) said, "The college teachers can remotely access the HPC
facility developed at an investment of 3.5 crores at IUST and it is the only one of its type in
Kashmir". He said that IUST is also investing its human resources in the research on
important technologies including AI, Machine learning Deep learning, blockchain
technology, and cyber security.
Dr. Rumaan Bashir (Associate Dean, SoET) highlighted the importance of HPC and
discussed how HPC harnesses the power of supercomputers and integrates fields of computer
science like computer security, programming languages, algorithms, networks, etc. She said
that the convergence of HPC & AI will pave way for innovations in science and technology,
business, industry, and economy. Dr. Manzoor Rasool (Faculty, Department of Computer
Science) presented a vote of thanks and assured that more such training programs will be
conducted by IUST in future too.