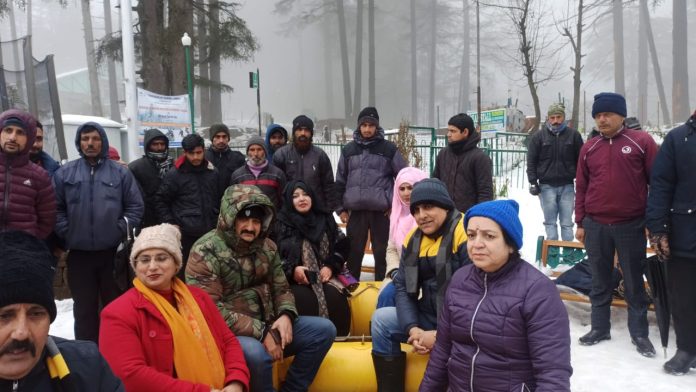 JAMMU: Under the close supervision of Secretary to Government, Tourism Department J&K,  Sarmad Hafeez, the Directorate of Tourism Jammu, in close collaboration with Patnitop Development Authority, today organized a 'Snow Celebratory One Day Event' in Patnitop and Sanasar to mark the celebration of  'National Tourism Day'.
The event was attended by tourists visiting Patnitop to enjoy the snowfall season and they merrily participated in all activities organized on this occasion especially Tug-of-War, fun skiing, snow rafting, ATV rides and other recreational snow activities. The tourists also made Snow Man and appreciated the organisation of such events during the snowfall season at Patnitop and Sanasar.
Speaking on the occasion, Sher Singh, CEO Patnitop Development Authority said that the tourists were enjoying the snowfall season to the fullest at Kud, Patnitop, NathaTop and Sanasar. The Department of Tourism, J&K shall continue organizing more events for the tourists at Patnitop and Sanasar area this year as well.
Sunaina Sharma Mehta, Joint Director Tourism Jammu briefed that about 6.50 lakh tourists visited Patnitop in 2022 and about 0.45 lakh tourists visited Patnitop during January 2023, till date. "We are hopeful that Patnitop will host more tourists in the year 2023" she said and added that the Directorate of Tourism Jammu was organizing a multitude of events in Patnitop, Bhaderwah and other upbeat and offbeat tourist destinations. It is coming up with the Bani-Basohli Festival, Shivkhori Festival and Aksini Bhaderkashi Festival at Bhaderwah in February 2023.
The fun skiing, zorbing and snow rafting activities were flagged off jointly by CEO PDA, Sher Singh and Abdul Jabbar, Deputy Director Tourism Jammu. The activities continued for the entire day at Patnitop and at Sanasar wherein Snowman making and other recreational snow games were enjoyed by visiting tourists.
Among others present on the occasion were Jyoti Koul Tourist Officer Udhampur, Amarpal Singh and officials of the Tourism Department were present at Patnitop on the occasion to celebrate the 'National Tourism Day'.