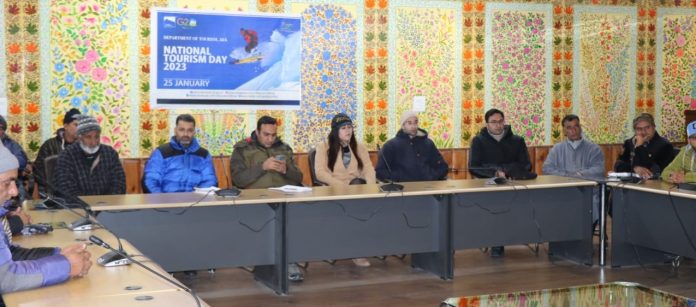 SRINAGAR: National Tourism Day was celebrated by the Directorate of Tourism, Kashmir here today.
Several functions were held to mark the occasion with an impressive function organized at TRC, Srinagar.
Among other activities, a BLS workshop and awareness camp was held for the tourism stakeholders. Several critical care experts gave live demonstrations of basic life support techniques, cardiopulmonary resuscitation and other means of recovery.
Speaking on the occasion, officers highlighted the objectives of observing National Tourism Day adding that tourism is the backbone of the economy of every society.
The idea of holding the workshop was to enhance the skills of field functionaries of the tourism sector like Guides, Shikarawallas etc so that the experiences of tourists are further enhanced.
The Tourism Department on the occasion also organized a tour of various heritage spots in and around Srinagar to highlight the heritage potential of Kashmir tourism. A photo gallery was organized by the Department at TRC on the occasion.
The Department had also organized an Ice Skating competition at Gulmarg and an Ice Climbing event at Chandanwari, Pahalgam to mark the event.
Meanwhile, National Voters Day was also celebrated at the TRC, Srinagar in which the officers highlighted the role of voting as a contribution to nation building.
On the occasion, the officers and officials of Tourism took the Voters Pledge and also the song of Election Commission was played.