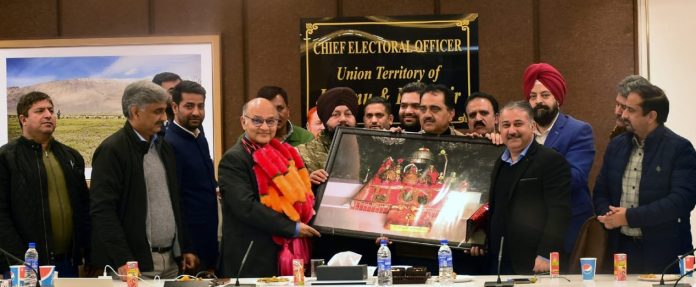 Sharma underscores the importance of autonomous body for holding Municipal, Panchayati Elections
JAMMU: The State Election Commission today bid farewell to the State Election Commissioner, Sh. K.K.Sharma,  who completed  his tenure as Ist State Election Commissioner of the UT of Jammu and Kashmir.
It is pertinent to mention that K.K. Sharma was appointed as the Ist State Election Commissioner of the UT of Jammu and Kashmir in October 2020.Prior to that, he had been Advisor to the Governor, Satya Pal Malik and Lt. Governors, GC Murmu and Manoj Sinha.
During his tenure as the State Election Commissioner, the elections were held to the first ever District Development Councils established under the new amendments of the Panchayti Raj Act by Government .
Secretary, State Election Commission, Susheel Kumar, Additional Secretary, Chief Electoral Office Sandesh Kumar, Joint Chief Electoral Officer, Anil Salgotra, other senior Officers and officials of the Commission and Chief Electoral Office were present on the occasion
Speaking on the occasion, the State Election Commissioner underscored the role of an autonomous body for the conduct of the Municipal and Panchayati Raj Institution Elections in every State and Union Territory.
He said that with the establishment of State Election Commission in Jammu & Kashmir, as per the provisions of Constitution of India, elections to these bodies will be free, fair and transparent resulting in strengthening of democratic institutions of local governance both in urban and rural areas at the grass root levels for all the future.
The SEC briefly dwelt on the process of holding elections for the first District Development Councils which were held in the Union territory of Jammu and Kashmir after the three tier Panchayati Raj system was made fully functional. He said that with the DDCs functional for two years, the Panchayati Raj system has become dynamic and people centric at District levels in entire Jammu and Kashmir.
A compendium on the District Development Council Elections was released by the State Election Commissioner, which has in detail portrayed the elections, the process as well as the overwhelming response of the people in Kashmir as well as in Jammu region.
Sharma also complemented the staff of the Commission for doing commendable work in spite of the fact that Commission was setup for the first time in Jammu and Kashmir.
Secretary, State Election Commission also spoke on the occasion and gave a brief overview of the work done during the tenure of the election commissioner. He said that important milestones have been achieved in establishing and deepening the functioning of the Commission in Jammu and Kashmir.
The compendium on DDC Elections would also be available on the official website of the State Election Commission (secjk.nic.in).