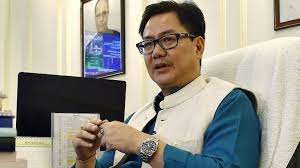 NEW DELHI: Union Law Minister Kiren Rijiju on Saturday raised questions over the Supreme Court's order creating a panel of the PM, the Leader of the Opposition and the CJI to advise the President on the appointment of the Chief Election Commissioner and election commissioners, saying if the CJI/judges sat on every important appointment, who would do judicial work.
At a media event here, he also alleged that there were a few retired judges who were activists and part of an anti-India gang, which was trying to turn the judiciary against the government.
Rijiju said, "There may be three or four retired judges who are activists and part of the anti-India gang. These people are trying to make the Indian judiciary play the role of an opposition party."
"Some people also go to the court and say please rein in the government, please change the policy of the government. These people want the judiciary to play the role of an opposition party, which cannot happen," he said. Responding to a question, Rijiju said, "The appointment of election commissioners is prescribed in the Constitution. Parliament has to enact a law. Accordingly, the appointment has to be done. I agree there is no enactment for that in Parliament… There is a vacuum."
"… But what I am saying is that if the Chief Justice of India or judges sit on every important appointment, who will carry forward the judiciary's work? There are so many administrative matters in the country. So we have to see that judges are primarily there to deliver judicial work," he said. The minister said if judges got involved in administrative work, they would have to face criticism and the principle of justice would be compromised, if they ended up hearing a matter arising out of such appointments.
"Suppose you are the Chief Justice or a judge. You are part of an administrative process that will come into question. The matter comes to your court. Can you deliver a judgment on a matter you were part of? The principle of justice itself will be compromised. That is why the Lakshman Rekha is very clear in the Constitution," Rijiju said, adding that he was not criticising the judgment or talking about its "repercussions" or what the government was going to do on the issue.