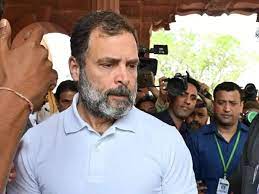 NEW DELHI: The Parliamentary Consultative Committee meeting of the MEA on India's G20 presidency on Saturday turned into a Rahul Gandhi-BJP face-off after MPs of the ruling party questioned the former's remarks made in London without naming him.
Defending himself, Rahul said he had not asked for the intervention of any foreign country on the matter. "Indian democracy is under attack, and that is evident," he said.
Earlier, BJP MP GVL Narasimha Rao said concerted efforts were underway to destabilise India's "historic" G20 presidency. He claimed the "Hindenburg report, the remarks of George Soros and the BBC documentary were all motivated attempts to undermine India's moment."
External Affairs Minister S Jaishankar in the chair, Rahul sought to respond to accusations by BJP leaders, triggering a fracas between the two sides, which eventually ended with Jaishankar asking Rahul to refrain from making political comments at the meeting at stick to the G20 agenda. Gandhi however argued that he needed to respond as others had spoken on issues beyond the G20 agenda.
Jaishankar is learnt to have repeatedly urged Rahul to make his point in Parliament and eventually told him, "I don't agree with you", with the latter retorting: "That's okay."