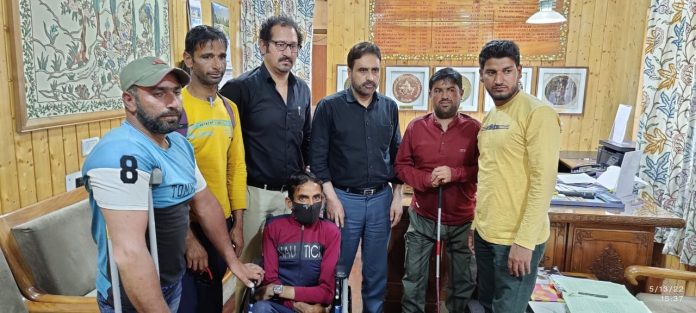 SRINAGAR: Various delegations including Special Hands for inclusive Sozni Crafts Welfare, Jammu & Kashmir All Handloom Weavers/ Cooperative Societies Association and Sonapah artisan group today called on Director Handicrafts & Handloom, Kashmir, Tariq Ahmad Zargar in his Office, here.
The group of special hands for inclusive sozni crafts welfare put forth various demands including the provision of keeping separate stalls for their association in exhibitions and absorption of qualified artisans in the Govt. sector as Master Artisans.
The president Handloom Weavers and Cooperative Societies demanded a special package for Handloom Units, purchase/ modernization/ renovation of looms, 10 percent special rebate on sale of handloom products, share capital loan for Handloom Societies and promotion and marketing intervention.
The artisan group of Sonapah demanded for providing of marketing opportunities for the artisans of Sonapah and fast tracking the establishment of craft village at Sonapah.
The Director informed the delegations about the proposals that have been already forwarded to the Govt. to provide much needed succor to the artisan fraternity.
The visiting delegation flagged some urgent issues with regard to the dwindling wages and the downward trend in the export of the Handicraft items particularly carpet from Kashmir.
The Director informed the delegations about the measures that have been taken for revival of the carpet industry where some mega clusters have been proposed for the crafts concentrated areas practicing the carpet weaving art.
The visiting delegation urged the Director to make all efforts for incorporating the artisans in the relief packages besides helping the concerned groups in Design Innovation, issues relating to freight subsidy, establishing of common facility centres and formation of Self Help Groups.
The delegation thanked Director Handicrafts & Handloom, Kashmir for his efforts in helping to notify the educational scheme for the children of artisans and weavers.