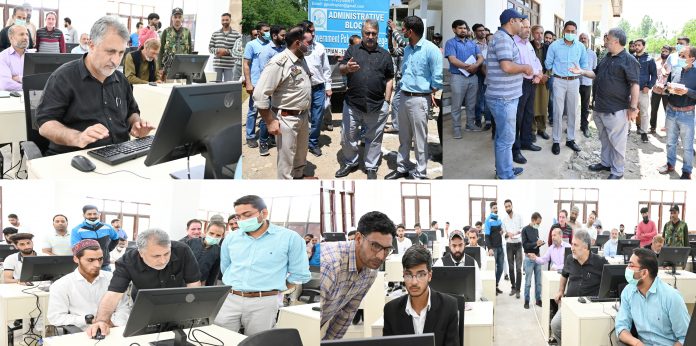 SHOPIAN, MAY 13:- Principal Secretary, Skill Development Department (SDD), Dr. Asgar Hassan Samoon, today inspected Government Polytechnic Block A and C Maligund, Shopian coming up at an estimated cost of Rs.13 crore besides assessing functioning of ITI and Polytechnic in the district.
District Development Commissioner, Shopian, Sachin Kumar Vaishya, Director SDD, Sudershan Kumar and other senior officers accompanied the Principal Secretary.
During the visit, Dr. Samoon also inaugurated Computer Centre, Language Lab at Government Polytechnic Maligund, Shopian and interacted with the students there. He enquired from them about the courses being offered there and emphasized upon the concerned for introducing courses like Electronics, Mechanical, Food technology, Civil Engineering and other streams.
The Heads of Institutions elaborately explained about overall functioning of their respective institutions besides highlighting the status of various works.
During his visit to Government Polytechnic, Dr. Samoon interacted with the faculty as well as students and took stock of functioning of the institution and development works being executed there.
Principal Secretary emphasized upon the Principal ITI Shopian for organizing camps in the district so that the student community is made aware about the courses being offered in the colleges.
He asked the Principals of Polytechnic and ITI to ensure 100 per cent admissions in their respective institutions.
While highlighting the need for introducing new courses in the Polytechnic, Dr. Samoon emphasized the officers to formulate a plan for introduction of new and job oriented streams in these colleges so that more employability avenues are created for the students.
Principal Secretary also impressed upon the Heads of Institutions to keep the websites of their respective institutions updated with regular updates regarding admission process and other related things.