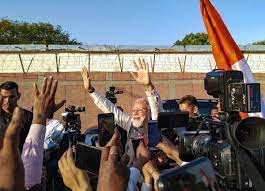 SYDNEY: Prime Minister Narendra Modi on Thursday asserted that he used every moment during his six-day tour across three countries for India's good as BJP workers and supporters accorded him a warm welcome on his return.
Addressing people who had gathered to welcome him outside the Palam airport here, he noted that not only Australian Prime Minister Anthony Albanese and that country's ruling party functionaries but a former prime minister and opposition members were present as well during the Indian community's programme in Sydney where he had spoken.
"This was the atmosphere of democracy that everyone joined in the Indian community's programme," Modi said, lauding this show of "democratic soul and strength".
Everyone accorded respect to the Indian representative, and it was not about Modi's glory but about India's strength, he added.
His comments came against the backdrop of opposition parties, including the Congress and many of those in power in several states, announcing their boycott of the new Parliament building's inauguration by him on Sunday.
The prime minister, though, made no direct mention of this in his speech.
He said he speaks confidently of India and its people's strengths abroad and the world listens because people here elected a majority government.
World leaders know that what he says is the voice of the 140 crore people of India, the prime minister added.
India, he said, faces the challenges of strengthening its roots while also working its way to a new high as the world expects it to.
"Challenges are big. But it is in my nature to challenge the challenges," the prime minister said, exuding confidence in front of a cheering crowd that his government will succeed in meeting these expectations in time. Global expectations from the country have been rising, he said, adding that the world now wants to know what India is thinking.
Modi spoke about the respect accorded by the people of Pacific island countries during the visit, and said they were thankful to India for the Covid-19 vaccines sent to them during the pandemic. Taking a swipe at his critics, the prime minister said they questioned him for sending the vaccines.