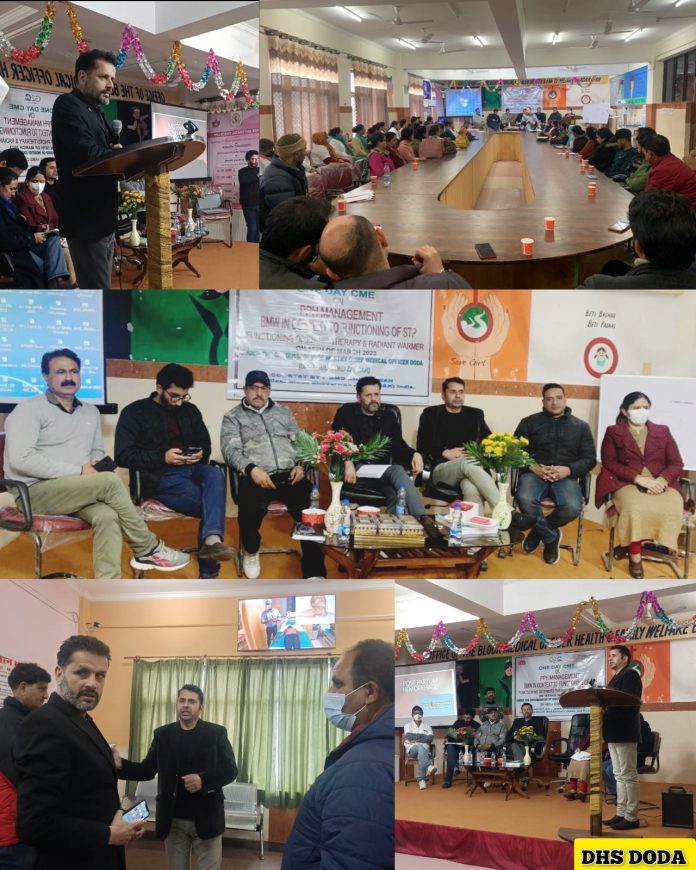 DODA: A one-day Continuing Medical Education event was held yesterday at Bhaderwah Sub District Hospital. The goal was to improve the skills, knowledge and performance of healthcare professionals.
Chief Medical Officer Doda Dr Ab Hamid Zargar presided over the programme and played a pivotal role in organising such programmes in the district. The programme was attended by Consultants SDH Bhaderwah besides Medical Officers and Paramedical Staff of peripheral health institutions of the block.
In his welcome address, BMO Bhaderwah, Dr Mohd Ashraf Kuchay presented an overview of the workshop and said that its main aim was to strengthen the basic knowledge of health staff so that they could easily deal with emergencies while discharging their duties. He thanked CMO Doda for organising the programme in their block and hoped that staff would benefit from it.
CMO Doda, Dr Zargar stressed upon all participants to actively participate in such programmes organised by the department for improving their skills and basic knowledge. He said that similar programmes were being organised in every block of the district on different subjects with the objective that every health staff gets familiar with his/her job profile.
Dr Zargar further said that such programmes would surely enhance and equip healthcare professionals with the latest innovations in order to make a difference in their patients' lives with accurate diagnosis and better treatment.
Guest speakers on the occasion included Consultant Gynecologist, Dr Versha Kotwal, Consultant Paediatrician, Dr Sangita and Sanitary Inspector, Alka Rani who imparted training to participants on different topics assigned to them. The proceedings of the programme were conducted by Dr Deep Mala.