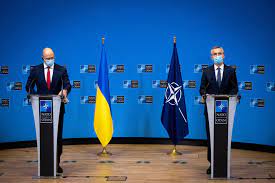 BRUSSELS: Ukraine will not be able to join NATO as long as the war against Russia rages on, bloc's chief Jens Stoltenberg said on Wednesday.
"To become a member in the midst of a war is not on the agenda," he said at an event in Brussels. "The issue is what happens when the war ends."
In September, President Volodymyr Zelenskyy announced a bid for fast-track membership of NATO after Russian President Vladimir Putin proclaimed four partially occupied regions of Ukraine as annexed Russian land.
NATO allies have not acceded to Zelenskyy's request, with Western governments wary of moves that they fear could take NATO closer to entering an active war with Russia.
NATO had agreed at its 2008 summit in Bucharest that Ukraine would become a member of the alliance.
However, leaders have since stopped short of taking any steps such as giving Kyiv a membership action plan that would lay out a timetable for bringing the country closer to NATO.
At the Brussels event, Stoltenberg acknowledged there were differences among NATO members over how to address Kyiv's membership ambitions.