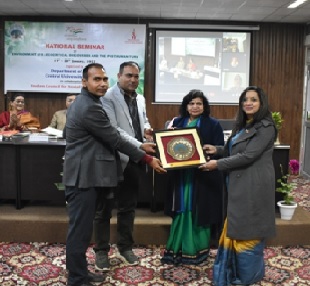 JAMMU: As part of Amrit Mahotsav, a National seminar on "Environment@75: Ecocritical Discourses and the Posthuman Turn" organized  by the Department of English in collaboration with Indian Council For Social Sciences Research concluded in the university campus of Central University of Jammu (CUJ).
During the program, eminent young scholars from various parts of the country presented papers.
Professor Nishi Pandey, Professor of Eminence, from University of Lucknow and Professor Kalpana Purohit from Jai Narayan Vyas University, Dr. Sayantan Das Gupta, Dr. AK merchant were the plenary speakers during the event.
The keynote address was delivered by Professor Kapil Kapoor, a scholar of international recognition. He gave substantial illustrations from vedic traditions to underscore how Indian consciousness had always been showing reverence towards nature and the colonial ecological intrusion and our mindless aping of western civilization dissociated Indian from their heritage and consciousness.
Vice Chancellor, Sanchi University of Buddhist Indic Studies, Professor Neeraja A. Gupta, was the chief guest in the inaugural session who is an acclaimed scholar of ancient Bhartiya wisdom.
Professor Gupta highlighted significance of the topic and its relevance to Indian cosmology and vedic tradition which propagates सर्वे भवन्तु सुखिना. He underscored the need for revisiting the Indian legacy which gives loud signals, be it Panch Mahabhoots or perceiving nature as a pratibhimbh.
In his welcome address, Professor Vandana Sharma, Head of Department of English and Seminar Coordinator, highlighted the aim of the seminar. She stated that the Department of English under the patronage and guidance of Vice Chancellor, Professor Sanjeev Jain is exploring critical areas of research in tune with national interests.
O P Vidyarthee, Former Principal Conservator of Forest and an avid environmentalist was the guest of honor who threw light on his creative and environmental endeavors.
During the seminar, the post graduate students of the department made a poster presentation related to the theme of the seminar.
Naveen and Ananya Jodha won the best poster presentation.