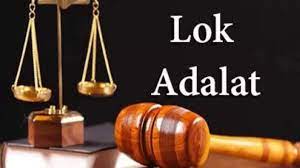 SRINAGAR: The District Legal Services Authority (DLSA), Srinagar is organizing National Lok Adalat on 11 February, 2023, in the premises of District Court Complex Moominabad, Srinagar. 
Parties or their Advocates, whose cases are pending before any Court at District Court Complex, Moominabad, Srinagar or before the Court of Additional Mobile Magistrate (TFC) Panthachowk, and are desirous to settle their cases/ claims/ matters through the above scheduled Lok Adalat, shall approach the concerned Courts by or before 08 February, 2023.
Besides, the parties whose cases are not pending (1.e Pre Litigation Matters) in any court but are desirous to settle their disputes can also approach office of the DLSA Srinagar on any working day by or before 08 Feburary, 2023 so, that their cases, claims or matters are processed and referred to the National Lok Adalat for settlement.
Various types of cases (Pre Litigation and pending in courts), Pre Litigation, NI Act cases under Section 138, Money recovery Cases, Labour dispute cases, Electricity and Water bill cases (excluding non-compoundable), Maintenance cases Other (Criminal compoundable and other civil disputes) Pending in courts shall be taken up for settlement.