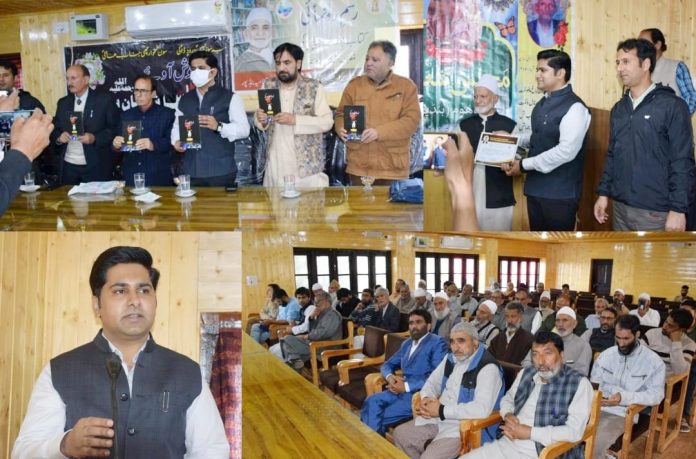 BANDIPORA: Under the Nasha Mukt Bharat Abhiyan, a Mushaira was Thursday organised by Majlis-e-Shabaan, a literary organisation in collaboration with the District Administration at Municipal Council Hall, here.
The Deputy Commissioner (DC) Bandipora, Dr Owais Ahmad also attended the mushaira and released a book "Durdane' Sadrek" -the collection of Sufi Poetry by Mohammad Munawar Parwana
A poetic session titled, "Drug menace" was also held during the function in which poets presented their thoughts regarding this menace, under Nasha Mukht Bharat Abhiyan.
Joint Director Planning Imtiyaz Ahmad, noted poets including Professor Ismail Ashna, Shabnam Tilgami, Mubashir Saleem Nazki, Gul Tanveer, Mir Tariq and other noted writers were present on the occasion.
Speaking on the occasion, DC appreciated the literary organisations of the district for regularly organising such literary activities to keep its literary taste alive for which Bandipora is known.
He said the administration is holding debates and discussions in schools and urged organisers to hold literary functions including Mehfil-e-Mushairas in schools and colleges so that the young generation is attracted not only towards the literature but are also introduced to the rich sufi traditions of this land.
He said the literature, art and rich Sufi traditions is the heritage of the people of Bandipora as it has produced acclaimed writers, poets, Sufi Saints and historians. He assured every possible support for uplifting the literary activities in the district and said that a space will be identified soon for establishment of a Cultural Hall where such activities can take place on a regular basis.
Dr Owais also appreciated the poet Mohammad Munawar Parwana for compiling his poetry in the form of a book for other people to read, appreciate and learn.
Earlier, writers Professor Ismail Ashna, Saleem Yousuf, Basharat Faukir, Shabaaz Hakbari and Mir Tariq reviewed the book and presented their views that was followed by discussion and interaction with the author.