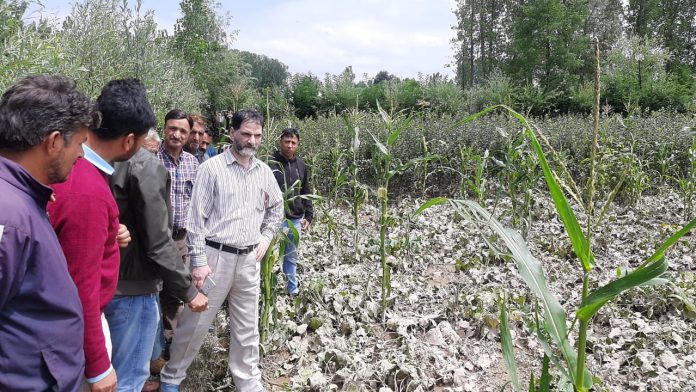 SRINAGAR: The Joint Director Agriculture Marketing, Mohammad Qasim Ghani today visited flood hit Organic Vegetable Cluster (OVC) Wanigund and different villages of the vegetable cluster to take stock of the damages caused by the recent heavy rainfall to different Agriculture crops at Kulgam.
He interacted with the affected farmers and took their feedback regarding the present scenario.
Speaking on the occasion, the Joint Director directed the concerned Chief Agriculture Officer (CAO) to constitute different teams to assess the crop losses so that the damage report could be submitted to SDRF relief besides alternate crop sowing.
He said that heavy rains, which resulted in flooding and water logging in the agriculture fields could cause considerable damage and economic losses to the affected farmers if timely remedial measures are not followed. He asked the technical experts of the department to suggest to the farming community regarding different remedial measures and intervention so that the impact of the present situation could be mitigated to some extent.
The Joint Director asked the affected farmers to strictly follow the guidance provided by the extension wing of the department. He impressed upon the concerned officers and the officials to work in close coordination with the affected farmer families and extend their moral support to them so that the impact of the situation could be minimized.
 Joint Director was accompanied by Chief Agriculture Officer Kulgam Sartaj Ahmad Shah, SDAO Qoimoh Mohammad Amin Sheikh, AEO Qoimoh Nazir Ahmad Rather and other officers of the district.