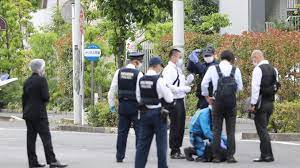 TOKYO: The son of a local Japanese politician was arrested on Friday in connection with a stabbing and shooting incident in Nagano prefecture which claimed the lives of four people.
The police have identified the suspect as Masanori Aoki, the 31-year-old son of the Nakano city assembly speaker, Xinhua news agency reported.
At around 4.25 pm on Thursday, local police received an emergency call about the man stabbing a woman in the city of Nakano.
The two officers who rushed to the scene were shot dead, according to local police.
After fleeing the scene, the suspect later barricaded himself for hours inside his father's home in a quiet residential area of Nakano city.
Local police on Friday morning also confirmed a fourth death at the scene an elderly woman.
She was reported to sustain injuries, but her conditions were uncertain as she was in proximity to the scene to be evacuated on Thursday.
The motive of the attack remains unknown.
Gun violence remains extremely rare in Japan, despite the killing of former Prime Minister Shinzo Abe in July last year, reports the BBC.
Shootings of multiple police officers are even rarer, with the last incident taking place in 1990, when two officers were shot by gang members in Okinawa prefecture.
In 2014, there were just six incidents of gun deaths in Japan, compared with 33,599 in the US.