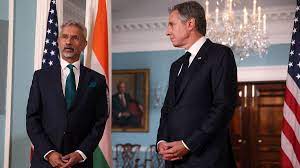 WASHINGTON: External Affairs Minister S Jaishankar on Thursday met US National Security Adviser Jake Sullivan and discussed taking forward the progress in bilateral relations between the two countries. The discussions, sources said, included the Ukraine conflict, the Indo-Pacific and rules to govern cooperation in high-tech sectors.
Jaishankar was closeted with Secretary of State Antony Blinken in a meeting when reports last came in.
"Good to be back here," Jaishankar said while appearing before the media along with Blinken ahead of the meeting. Officials from both sides, however, were tightlipped about the agenda of the meeting.
Jaishankar arrived in Washington on Wednesday to begin the second leg of his nine-day US visit. During the first leg in New York, he addressed the 78th UN General Assembly session and held several bilaterals. Jaishankar's current visit has been overshadowed by Canadian PM Justin Trudeau's allegation of a potential Indian link to the murder of Khalistani terrorist Hardeep Singh Nijjar in Surrey, British Columbia. However, he has a much wider palette, which includes taking forward decisions taken during PM Modi's State visit to the US in June which was followed by a private dinner between the two leaders on the eve of the G20 summit in New Delhi.
Sullivan a week back had said on the Nijjar issue that "regardless of the country, we will stand up and defend our basic principles and we will also consult closely with allies like Canada as they pursue their law enforcement and diplomatic process". Blinken has said Washington is worried about the implications of a transnational crime and feel it is "important" for India to work with the Canadians on the investigation.
Jaishankar, on the other hand, has said India is open to looking at specific information provided by Canada.
Earlier in the day, State Department spokesperson Matthew Miller said he did want to preview the conversations Blinken would have with Jaishankar. "… we have engaged with our Indian counterparts and encouraged them to cooperate with Canadian probe," he observed.