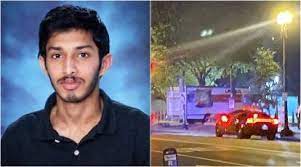 WASHINGTON: A 19-year-old Indian-origin man, Sai Varshith Kandula, accused of deliberately crashing a rented truck into a White House barrier has praised Adolf Hitler to investigators and said that he aimed to "kill" President Joe Biden if necessary to seize power, media reports said on Wednesday.
The US Park police said Kandula was arrested on multiple charges, including threatening to kill, kidnap or inflict harm on a President, assault with a dangerous weapon, reckless driving, destruction of federal property and trespassing.
US President Joe Biden had been briefed on the crash by the security agencies. White House press secretary Karine Jean-Pierre said, "He's relieved that no one was injured last night." The exact location of Biden at the time was unclear.
After the crash, Kandula came out of the truck with a Nazi flag and started shouting when he was detained by the local Police and Secret Service officers. Questioned by investigators, Kandula said he wanted to take over the government and wanted to kill President Joe Biden.
A day earlier, the US Secret Service had said it had detained the driver of a rented box truck that crashed into security barriers near the White House on Monday night, perhaps intentionally, but that there were no injuries. Witnesses reported a Nazi flag that the police had laid down on the sidewalk along with other evidence bags.
"Preliminary investigation reveals the driver may have intentionally struck the security barriers at Lafayette Square," tweeted Anthony Guglielmi, chief of communications for the Secret Service. The nearby Hay Adams hotel was evacuated at the request of the Secret Service, the Washington Post reported, citing a hotel official, while the Secret Service said some roads and pedestrian walkways around the park were closed.