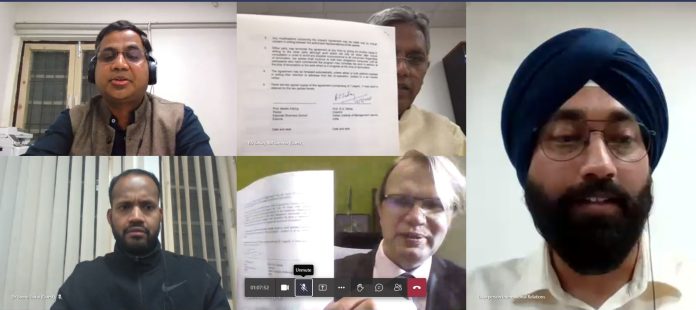 JAMMU: Indian Institute of Management (IIM) Jammu has signed a Memorandum of Understanding (MoU) with the internationally renowned Estonian Business School for Academic and Research Exchange.
The MoU was signed by Director IIM Jammu, Prof BS Sahay and Rector Estonian Business School, Prof Meelis Kitsing, in the presence of Dean Academics, Prof Jabir Ali; Chairperson of International Relations, Dr Sarbjit Singh and Co-Chairperson of International Relations at IIM Jammu, Dr Somu Gorai.
The MoU signing began with a welcome by Dr Sarbjit Singh followed by an overview of IIM Jammu by Prof Jabir Ali and an overview of Estonian Business School by Prof Meelis Kitsing.
During the MoU signing ceremony, Prof BS Sahay, expressed his optimism about the collaboration with Estonian Business School. He said that it is a positive step towards absorbing best practices in research and teaching from top business schools worldwide.
Prof Meelis Kitsing, Rector of Estonian Business School also spoke at the event and gave an overview of his institution. He mentioned that collaboration between both institutes will help develop competence in key areas ranging from development of educational and training programmes to long-range planning and institutional development.
Prof Jabir Ali, Dean of Academics at IIM Jammu also spoke on the occasion and gave an overview of IIM Jammu. He mentioned that both institutions have agreed to work in areas such as student exchange, faculty exchange, joint management development programmes, executive education programmes, organising joint research programmes and conferences.
The MoU signing ended on a positive note with a mutual agreement to move forward quickly by organising joint online meetings among faculty and students at both institutes.