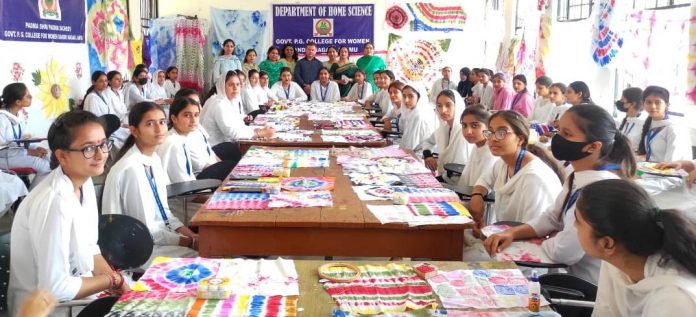 JAMMU: "Passion to Profit: Fabric Embellishment Entrepreneurship Workshop organised for the students of Home Science Department concluded today at Padma Shri Padma Sachdev Government College for Women Gandhinagar.  
The workshop, which spanned six days from 31st May to 7th June 2023, attracted an overwhelming response with a total of 120 enthusiastic participants. These students had the opportunity to unlock the potential of fabric embellishment and acquire the necessary skills and knowledge to start their own entrepreneurial ventures in this creative field.
Under the guidance of the expert instructor, Pankaj Kapoor, from Mahit Fine Art, participants learned a variety of fabric embellishment techniques, including tie and dye, block printing, fabric painting, batik, stencil, and more. Additionally, they mastered essential business strategies such as marketing, leveraging online platforms for selling their products, and understanding the marketplace dynamics.
The success of the workshop was further amplified by the support and encouragement from the college principal, who applauded the efforts of the department members in organizing such a valuable learning experience. In a message to the participants, the principal motivated them to utilize the skills and knowledge gained during the workshop to pursue their entrepreneurial aspirations and start their own enterprises.
During the planning meeting, the logistics and resource requirements were discussed. Participants were informed in advance to bring their own colours, fabric samples, brushes, and other relevant materials. This ensured a seamless and engaging workshop experience for all attendees.
The workshop registration process was streamlined through an online registration link, providing interested individuals with the opportunity to secure their spots for this unique and empowering workshop.
The "Passion to Profit: Fabric Embellishment Entrepreneurship Workshop" not only equipped participants with artistic techniques but also instilled in them the entrepreneurial mindset necessary to succeed in the creative industry.
PSPS GCW Gandhinagar is a leading institution dedicated to fostering creativity and entrepreneurship. Through workshops, seminars, and programs, college empowers individuals to explore their passions and transform them into successful ventures.
The valedictory function was held today with participants displaying their creativity to the staff and students of the college. The organizing committee included Dr. Irvinder Kour, Head of Department of Home Science, Dr. Anjali Bhat, Prof Neelam Bhagat, Dr. Ramandeep Kour, Dr. Neelima Gupta and Prof. Shivani Sawhney.