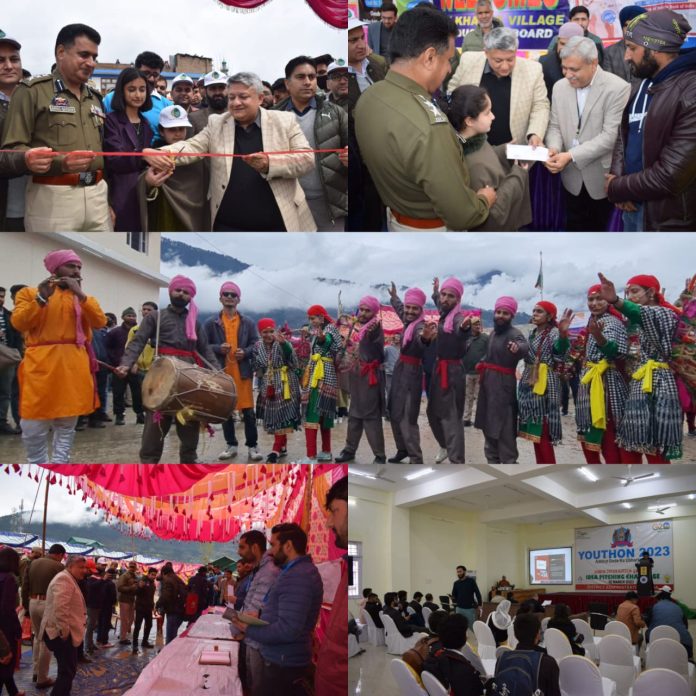 DODA: Engaging youth and channelising their efforts towards positive and encouraging activities for a prosperous and well-groomed future is a top priority for the UT administration under the leadership of Lieutenant Governor Manoj Sinha.
To further these efforts and revitalise Youth Clubs established in all 237 panchayats in the district, a lively youth festival, Doda Youthon 2023 was held today at Sports Stadium Doda.
Thousands of young people from across the district joined the festival was inaugurated by Deputy Commissioner Vishesh Mahajan, along with SSP Abdul Qayoom and others.
In addition to fun, food and music, an interaction with successful entrepreneurs, businesspeople, motivational speakers and counsellors was held and highly appreciated by the youth. They shared their success stories and ideas behind their achievements. Some speakers from outside the UT of J&K who are graduates from IIT with successful startups came to motivate and enlighten the youth while others interacted through virtual mode.
The Idea Pitching Challenge – an initiative under ADBHUT Doda – was a great success. 23 innovative ideas were received online from young people across the district. The ideas were explained by creative youth and discussed with a team of successful individuals and officials from Entrepreneurship Development Institute (EDI) to transform them into gainful activities that contribute to society and the nation. The best ideas were declared by a jury of three judges and awarded by the administration.
A local online service provider company called 'Doda Hub' was launched at the Youthon 2023 platform today. It offers 24/7 paid services from ITI-trained technicians and other trade experts initially for Doda Town.
A job fair was held where more than 316 young people were offered on-the-spot jobs by various non-governmental agencies. Sanction and disbursement letters under PMEGP and other schemes were distributed among selected budding entrepreneurs.
On-the-spot registration forms for various self-employment subsidy-based schemes were received from young people interested in establishing their own enterprises and business units. The sports competitions scheduled for today were deferred due to rain and wet ground conditions.
Addressing the audience, DC Doda articulated that young people represent our hope for the future and that the administration is dedicated to generating superior opportunities to empower them for a brighter tomorrow and for the advancement of our nation. 'Innovative ideas from young people are highly valued and will be further refined to create livelihood opportunities and amenities for citizens and society. Through targeted efforts that incorporate technology, innovation and expert guidance, our youth can attain a level of excellence comparable to those in the most developed nations – they may even surpass them', he said.
During the festival, five fruit-bearing trees were planted in every panchayat in the district through Horticulture Department Doda.
The entire event was conceptualised by ADDC, Pran Singh ]along with ADC, Dr RK Bharti; GM DIC/Deputy Director Employment, Idrees Lone (Nodal Officer); ACR, Sanjeev Kumar; ACD, Phulail Singh besides others.