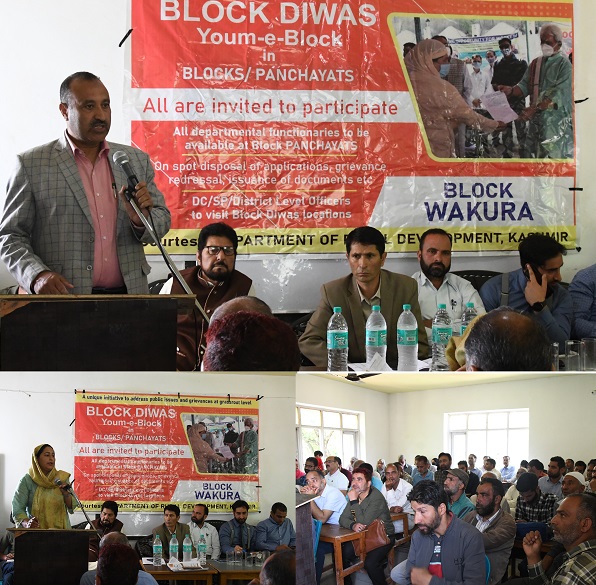 ADDC assures prompt redressal of grievances
GANDERBAL: The District Administration Ganderbal today conducted mega Block Diwas at Govt Higher Secondary School Kurhama, Wakura to listen to the grievances of people at their door steps and ensure immediate redressal of the same.
The camp was presided over by the Additional District Development Commissioner (ADDC) Ganderbal, Mushtaq Ahmad Simnani along with BDC Chairperson, Wakura.
The programme witnessed overwhelming participation of PRI members and prominent citizens of block Wakura who highlighted the issues and demands pertaining to their areas including timely completion of water supply schemes, staff dearth in PHC Kurhama, panchayat building at Kurhama, play field, development of link roads, augmentation of facilities at PHC Batwina, widening of roads, augmentation of water supply schemes, desilting of Dub canal, completion of Guzhama bridge, Handloom Training Centre, filling of graveyard, veterinary Centre at Kurhama and other issues of public importance.
The ADDC listened to all the issues raised by the locals patiently and assured that the demands raised would be taken with concerned departments for prompt redressal.
He gave necessary instructions to the officers for ensuring timely redressal of the genuine concerns of the locals and several issues were also redressed on the spot.
Meanwhile, various departments including District Employment & Counseling Centre Ganderbal, Agriculture, Ayush, J&K Bank and others apprised the participants about the beneficiary oriented and Self-employment schemes available and urged them to take benefit of such schemes as per eligibility to improve their socio-economic condition.
Program Officer, District Employment & Counseling Centre Ganderbal briefed the audiences about the schemes being offered especially Mission Youth Schemes. She also informed about the Job Fair to be organized on 10 May, 2023 at GDC Ganderbal in which over 16 companies are participating and urged the participants to motivate local unemployed youth for participation.
The event was attended by Tehsildar Wakura, Chief Horticulture Officer, District Social Welfare Officer and BDO Wakura besides other district and sectoral officers.