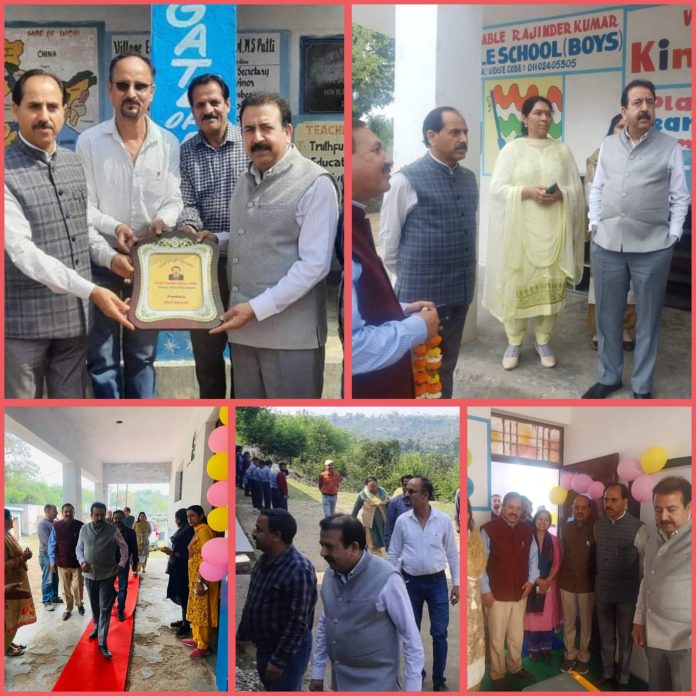 Inspects construction works at GHSS Chanunta
UDHAMPUR: Director School Education Jammu, Dr Ravi Shankar Sharma, accompanied by Joint Director School Education Udhampur-Reasi, Dhirendra Sharma and other officials, visited District Udhampur at Block Chanunta to inspect various ongoing projects.
The team first visited Higher Secondary School Chanunta and inspected the ongoing construction work at Block A and Block B. At GHSS Chanunta, Director School Education Jammu addressed a public gathering and stressed on the importance of education. He advised implementing various schemes for the welfare of students by involving community mobilisation.
Director School Education Jammu also inaugurated Kindergarten in the premises of Government Middle School Patli, GMS Bhugterian, GMS Chanunta, GMS Nagrota and GMS Sansoo. The officers stressed on the importance of KG classes as it is the foundation of learning according to NEP 2020.
The concerned officers also visited HSS Garhi where they inspected the remodelling of the school infrastructure which was under construction at a cost of Rs 8 crore. The team also made administrative inspections in various other schools including MDM and examination centres. They were highly satisfied with the implementation of self-defence training and school safety and security on the ground.