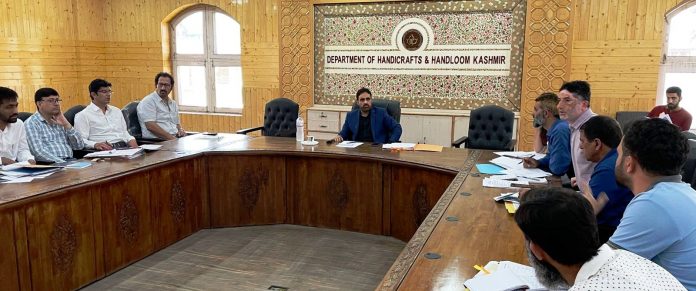 SRINAGAR: Director Handicrafts & Handloom Kashmir, Tariq Ahmad Zargar today held a meeting with the officers of the Kashmir Division and reviewed the functioning and implementation of the various schemes currently in vogue for the artisan and weaver fraternity of the UT of J&K. 
The meeting reviewed the administrative issues of the department besides discussing various aspects relating to the guidelines laid down in the Handicrafts & Handloom Policy 2020 and its implementation on the Ground.
Director H&H emphasized that department needs to speedup the Registration process for the grass root level artisans, so that they can avail the benefit of each and every scheme that is currently operational on the ground.
The Director emphasized that artisan database be made more coherent and vibrant. While discussing the issue of implementation of Handicrafts & Handloom Policy, the Director laid stress on the District heads to go for maximum number of awareness camps and for on spot registration camps so that no artisan is left out without getting the benefit of the Governmental programs .
The Director laid stress for utilization of services of different Institutes like School of Designs, Craft Development Institute and Indian Institute of Carpet Technology for creation of innovative Designs and refresher courses for the already existing man power of the Department.
The Director also stressed for speedy implementation of the latest e-governance initiatives including the implementation of the e-office at an earliest.
Urging upon Officers to work in a coordinated manner, the Director asked them to ensure that adequate coverage be given to programmes and initiatives of the Department. He said that effective promotional campaigns need to be carried out to promote major schemes of the Department including the G.I Promotion.