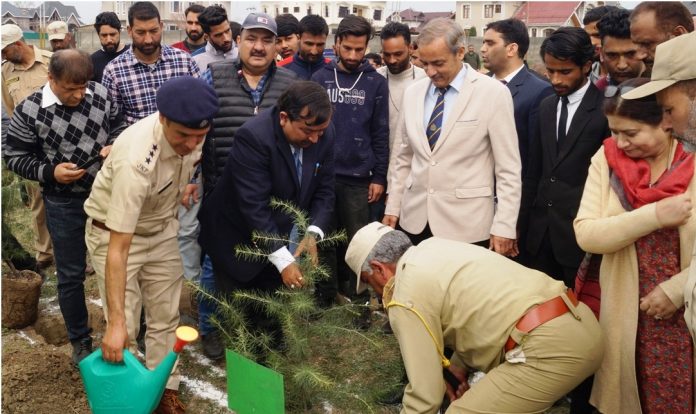 Principal Secretary Forest kick started drive
SRINAGAR:  As part of 'Green J&K Drive' the Department of Social Forestry today organized a mega plantation event in collaboration with University of Kashmir at Zakura Campus, here.
More than 1000 plants of Deodar and other species were planted. University and school students, NCC cadets, school children, Eco Club members, Van Mitras , NGOs, Teaching faculty of University, Government officials, staff of Social Forestry Division Srinagar and local people participated in the plantation event .
The drive was kick started by Principal Secretary Forest, Ecology and Environment Department, Dheeraj Gupta who was also the chief guest at the event.
Speaking on the occasion, the Principal Secretary expressed satisfaction and appreciation for whole hearted support and participation of VPPCs, PRIs, Gram panchayat members, University administration and other stakeholders in carrying out the plantation event successfully.
He stated that under Social Forestry's various initiatives, efforts are being made to scale up plantations within urban areas to create green assets which not only add to the aesthetic value of cities but also play a key role in mitigating climate change.
Gupta appreciated efforts of the Social Forestry Department for doing plantations inside educational institutions, on lands belonging to Gram Panchayats and also to promote plantation on farmer's land. Gram Panchayats are playing a proactive role in engaging local people to take up afforestation as a gainful farming enterprise to increase their income and enhance livelihood opportunities in rural areas, he added.
Speaking on the occasion, PCCF(HoFF), J&K Forest Department, Dr Mohit Gera appreciated the efforts of Social Forestry Department in greening the Srinagar city under 'Green JK Drive' and highlighted the importance of such plantation drives in educational institutions especially University Campuses under the component 'Institutional Plantation'.
Vice Chancellor of University of Kashmir, Professor Nelofer Khan in her address appreciated the efforts of the Social Forestry Department in organizing such drives under 'Institutional plantation' which has made the campus green and beautiful.
PCCF/ Director, Social Forestry Department J&K, Roshan Jaggi highlighted the achievements of the Social Forestry Department. He said that the Forest Department during the current year is aiming to plant 1.35 crore saplings, (84 Ponds) water harvesting structures constructed and Fodder augmentation activities are being taken up in all 4291 GPS across all districts of J&K.
Others who spoke on the occasion were Nazir be Nazir, Chairman NGO, VPPC members, PRIs, Vice chairman DDC Srinagar Bilal Ahmad. They hailed the efforts of the Social Forestry Department in enhancing the green cover of the UT.