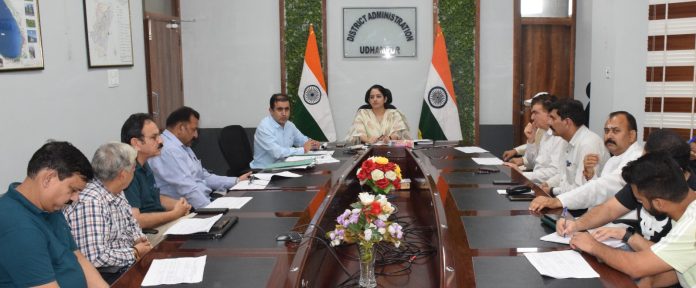 UDHAMPUR: Saloni Rai, the District Election Officer Udhampur on Tuesday convened a crucial meeting with representatives of Political Parties here in the Mini Conference Hall of the DC Office Complex to seek their suggestions on rationalization of Polling stations.
Deputy District Election Officer, Gurdev Kumar, extended a warm welcome to the political leaders and provided them with an overview of the rationalization of polling stations in the district. He emphasized that the district has a total 626 polling stations, with a proposal for the addition of 28 new polling stations at the strategic locations.
The meeting delved into several key aspects, such as the appointment of booth-level agents by the polling parties, the draft list of polling stations aligned with Assembly constituencies, rationalization of polling stations, and potential changes in the locations of existing polling stations.
The DEO expressed gratitude to all the political representatives and urged them to submit their objections and suggestions in writing within the stipulated timeframe.
Furthermore, DEO Rai directed the Deputy DEO to motivate and enhance the performance of Booth Level Officers (BLOs), emphasizing the need to work efficiently, fairly, and with utmost transparency.
In addition to discussions on polling station rationalization, the DEO informed the political representatives about the ongoing summary revision of electoral rolls. This revision offers a vital opportunity for new eligible voters to enroll and actively participate in the democratic process.