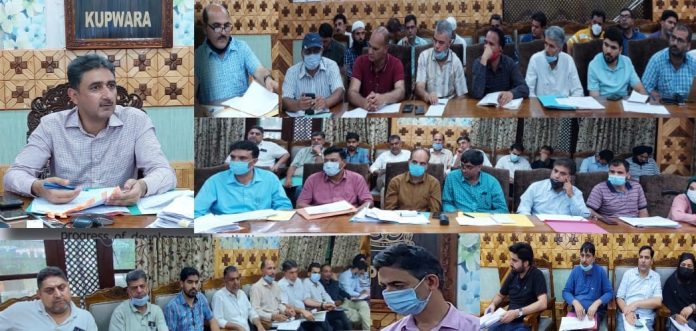 KUPWARA: The District Development Commissioner (DDC), Kupwara, Khalid Jahangir today convened a meeting of concerned officers to review the progress of works under Samridh Seema Yojana (SSY) and BADP for the current financial year.
On the occasion, the DDC took a detailed review of all ongoing works and received feedback from the concerned officers. He set a timeline for each work and stressed upon the officers to expedite the pace of progress and ensure completion of the works within the given time frame.
The meeting was informed that under BADP, 134 works have been taken up by 19 departments at an estimated cost of Rs.7605.81 lakh. Of which 61 works have been completed with a cumulative expenditure of Rs.4802.38 lakh upto March 2022. These 134 works include 72 works of RDD; 11 of R&B Kupwara, 7 R&B Handwara, 9 SSD Tangdar, 5 JK Housing Board, 2 JKPCC, 4 of Health, 7 of Agriculture, 2 of Forest, 5 under Model villages, 2 of S&T; 1 each of MIS, PHE Handwara, I&FC Handwara, Education, ITI Handwara, MC Handwara, MC Kupwara, MC Langate.
The meeting was also informed that 81 works have been taken up by 9 departments under SSY for the year 2022-23. Out of which 70 works have been accorded Administrative Approval with total outlay of Rs.1381.31 lakh.
JD Planning, ACD Kupwara, CEO, CAHO CAO, DHO, Executive Engineers of different departments and other concerned officers attended the meeting.