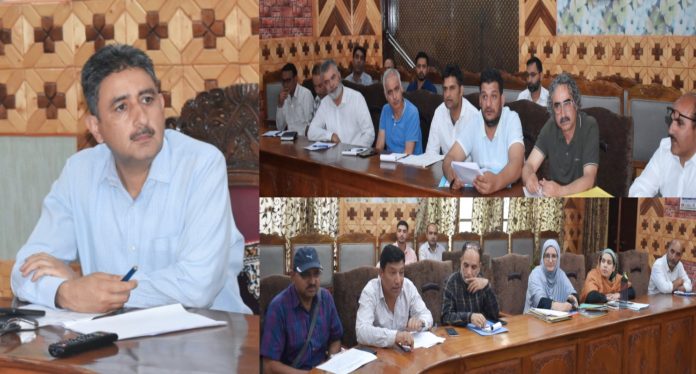 KUPWARA:  The District Development Commissioner (DDC) Kupwara, Khalid Jahangir today stressed upon all concerned officers to work with added dedication and promptness to ensure complete saturation of all parameters given under the deliverables programme.
The DDC said this during a meeting of concerned officers, here to review the progress of developmental deliverables.
He took a detailed review of all the parameters and received feedback from concerned officers about the progress of saturation of the parameters.
The DDC directed all the officers to work on deliverables in their respective jurisdiction as per the timelines given so that the concept of good governance and timely disposal of services could be ensured and reflected at ground level. He urged upon them for the best management and effective utilization of the resources.
He stressed upon the officers to ensure that the execution of parameters should be systematic and well documented. To yield best results at ground level, the DDC asked officers to work in a convergence mode and pool the resources.
Khalid Jehangir said that the officers must brief their subordinates on the expectation and ensure that commensurate efforts are made towards achieving the targets. He reiterated that the developmental deliverables for the financial year 2022-23 are aimed at ensuring holistic and equitable development; whereby functions of all departments have been quantified to set time-bound targets to be achieved through the convergence of associated departments. The deliverables focus on people-friendly outcomes.
In a separate meeting, the DDC also took a review of drainage projects in the Municipalities of Kupwara, Handwara and Langate under Border Area Development Programme (BADP).
JD Planning, Chairmen of Municipal Committee Handwara and Langate, ACD Kupwara, Ex. Engineers of various departments, and other concerned Officers attended the meeting.