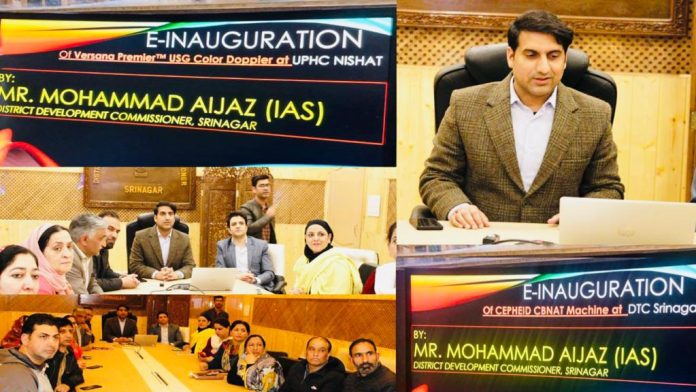 SRINAGAR: The Deputy Commissioner Srinagar, Mohammad Aijaz Asad today inaugurated vital healthcare equipments to further strengthen and upgrade healthcare infrastructure in District Tuberculosis Centre and at UPHC Nishat.
Commissioner Srinagar municipal Corporation(SMC), Athar Amir Khan was also present on the occasion.
While, Chief Medical Officer, Dr Jameel, HoD Community Medicine, Dr Saleem, Block Medical Officer, Hazratbal, Dr Farah, District Tuberculosis Officer, Dr Tehjena, District Health Officer, Dr Asifa, all Zonal Medical Officers and other concerned were also present during the e-inauguration ceremony.
On the occasion, the Deputy Commissioner inaugurated Rs 23.68 lakh USG Colour Doppler Machine for UPHC Nishat under District Capex Budget 2022-23 to provide improved facilities to patients of the local areas with annual coverage capacity to cater requirements of over 1500 patients.
The DC also inaugurated CB-Naat Machine costing Rs 20.43 lakh for District Tuberculosis Centre under District Capex Budget 2022-23 to benefit local population of Medical Block Hazratbal. The Machine has capacity to cater annual requirements of over 4000-5000 patients.
Speaking on the occasion, the Deputy Commissioner lauded the efforts of the health functionaries for discharging their duties with dedication. He urged them to work with added zeal and determination to further improve the patient care facilities and healthcare infrastructure in the District.