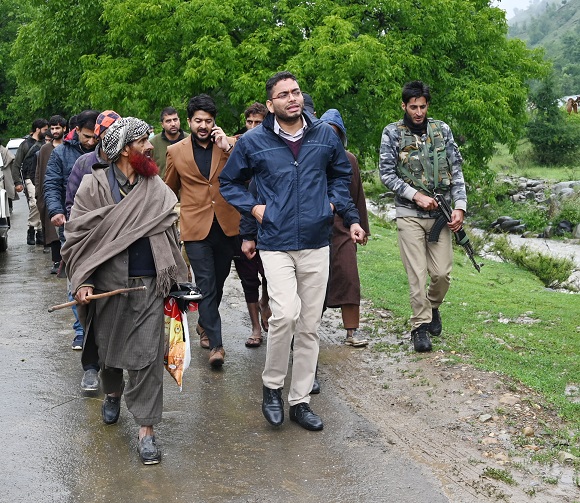 SHOPIAN: The Deputy Commissioner (DC), Shopian, Sachin Kumar Vaishya today undertook tour of various far-flung areas of Keller Tehsil of the district including Chowan, Batafojan and Zampathri to take stock of situation in view of incessant and heavy rainfall in the district  and to assess ground situation in person.
During the visit, DC inspected road erosion at Batafojan and directed Tehsildar Keller to put men and machinery on job for completing the road erosion work at Batafojan Chowan road damaged due to recent heavy rainfall to facilitate the people of the area.
He then visited Gorsi Nallah Zampathri and directed the Tehsildar Keller and other concerned executing agencies for construction of protection bund along Gorsi Nallah Zampathri, endangering the Gujjar Basti Zampathri and shifting of Government Primary School Zampathri to a safer place.
The DC undertook a surprise inspection of various other roads and assessed traffic scenario along with availability of basic amenities of power and water availability and directed concerned to keep vigil over the situation especially landslides over hilly terrain of the district and be prepared for mitigating any adverse impacts of weather situation.
Enroute, DC interacted with the people of Zampathri, Chowan and Batafojan who projected their demands and issues of public importance which include scarcity of potable drinking water, road connectivity and other developmental issues.
DC listened to their demands and issues patiently and assured redressal of their grievances within the shortest possible time for the well-being of the people of the area.
Assistant Commissioner, Revenue, Shahbaz Ahmed Bodha; Tehsildar Keller accompanied the DDC along with other officials.