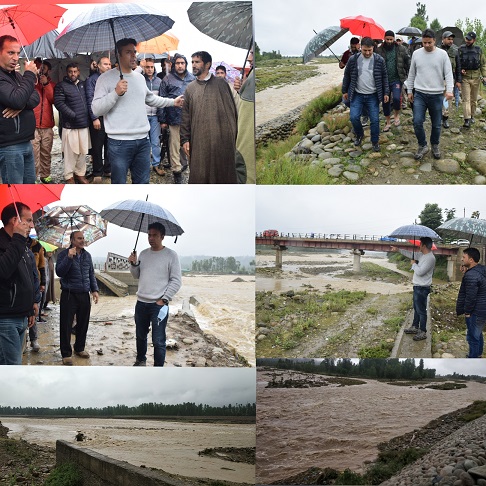 KULGAM: In order to take first hand appraisal of the situation arisen due to heavy rains in the district, the Deputy Commissioner (DC) Kulgam, Dr.Bilal Mohi-Ud-Din Bhat today toured various areas of Qaimoh, Brazloo, Chamgund, Ashthal, Pranhal and other areas in the district and took detailed stock of situation in these areas.
Meanwhile all the District and Sectoral officers were directed by the DC to remain stationed at their respective headquarters and monitor the situation closely.
District Administration has also established a Control Room at District Headquarter Kulgam for the general public to meet any eventuality during the rainy session with contact number 7006562910 – 01931-260380/260500 at DC Office.
Tehsil Level Control rooms have also been established at Tehsil Headquarters of the district for the general public to meet any eventuality viz. Tehsil Kulgam 9906113873, Tehsil Devsar 6005084711, Tehsil D.H Pora 9906802789, Tehsil Pahloo 7006265899, Tehsil Qaimoh 9596117043, Tehsil Yaripora 9797280108, Tehsil Frisal 9697100121.
Pertinently several rescue operations were carried out by Police and civil administration along with locals and teams from SDRF during which several families were rescued.
Several Nomadic families including three members of family were rescued along with their flock after they were trapped in the Nallah Veshow near Pariwan village. Trapped persons from Ashthal and 8 families from Khrevan Lassipora and other areas were also rescued.
The DC personally monitored the rescue operation at Ashthal.
The District Administration also distributed some relief material among the affected families.