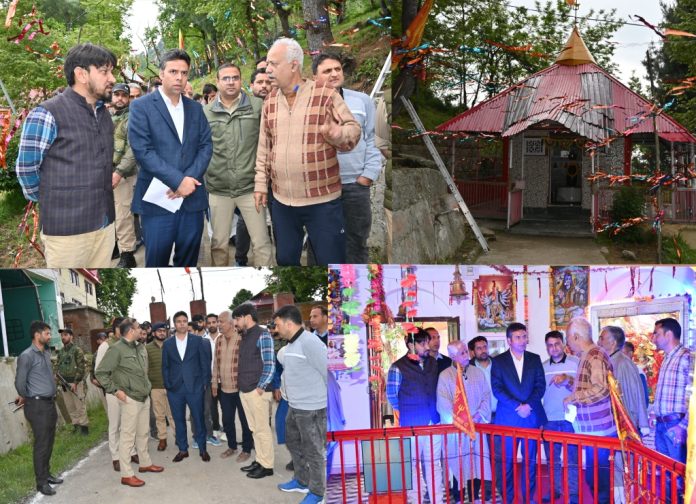 Welcomes devotees on their arrival, greets them on the eve of auspicious occasion
KULGAM: The Deputy Commissioner (DC) Kulgam, Dr. Bilal Mohi-Ud-Din Bhat today visited Kheer Bhawani Asthapan Manzgam and Shree Tripoori Sundri Asthapan Khanbarni Devsar to oversee the arrangements, being  put in place for celebration of Annual Kheer Bhawani Mela at both the places.
On the occasion, Officers from KPDCL, Jal Shakti, Health and other line departments briefed the DC about the arrangements put in place for smooth conduct of the celebrations.
The DC instructed the concerned officers to synergize efforts to ensure smooth celebration of Mela Kheer Bhawani and extend all requisite facilities to the devotees.
He directed all the offices to ensure appropriate arrangements are put in place for the smooth conduct of Mela.
Earlier, the DC along with other officers welcomed the devotees on their arrival and extended greetings on the auspicious occasion of Mela Kheer Bhawani.
Meanwhile proper transport arrangements have been made by RTC for the devotees.
Among others, the DC was accompanied by SSP Kulgam Sahil Sarangal, ADC Viqar Ahmed Giri, SDM Noorabad Bashir Ul Hassan, ACR Mir Imtiyaz-ul-Aziz, ASP Shabir Ahmad, Tehsildar D.H.Pora and SDPO.