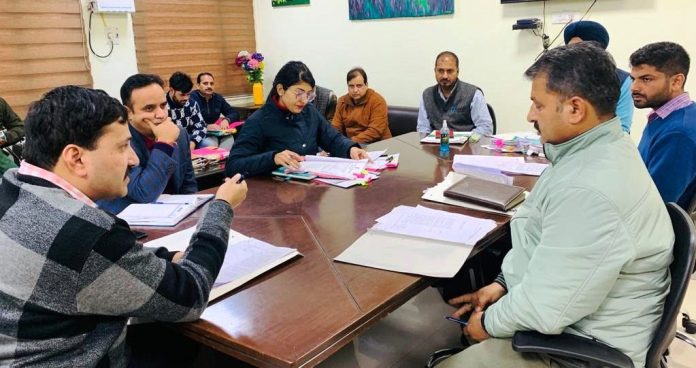 KATHUA: Deputy Commissioner Kathua, Rahul Pandey today convened a meeting of concerned officers to review issues pertaining to Thein Dam Project here at DC office complex today.
ADC Basohli, Ajeet Singh; ACR, Vishav Pratap Singh; XEN RSD Project, SDO Personnel Division Project RSD,Naib Tehsildar and other concerned officers attended the meeting. 
At the outset, ADC Basohli, who is also Collector Thein Dam Project apprised the meeting about the outstanding issues related to land compensation, employment, maintenance of road patch, grievances of people of affected areas and other issues concerning revenue department.
The DC impressed upon the authorities representing the Punjab side to put in concerted efforts to expedite issues related to land compensation, employment to eligible families ousted for execution of Thein Dam Project.
Regarding pending land compensation cases, the DC directed Collector RSD to organise a camp for distribution of the Award amount of land compensation amongst the private landholders on priority. Besides, DC also enjoined upon the concerned to expedite the process of awarding the outstanding compensation of state land.
While discussing Relief & Rehabilitation of affected people, the DC directed stakeholders to furnish a report on relief and rehabilitation measures so as to resolve the pending issues. He further directed Collector RSD to submit the updated list of oustees to Punjab authorities so as to cross-verify the credentials before moving ahead for their employment.
The meeting also discussed issues related to fresh survey for Gherao Cases, Attestation of pending Mutations, Development of Tourism and other issues highlighted by Punjab authorities etc.