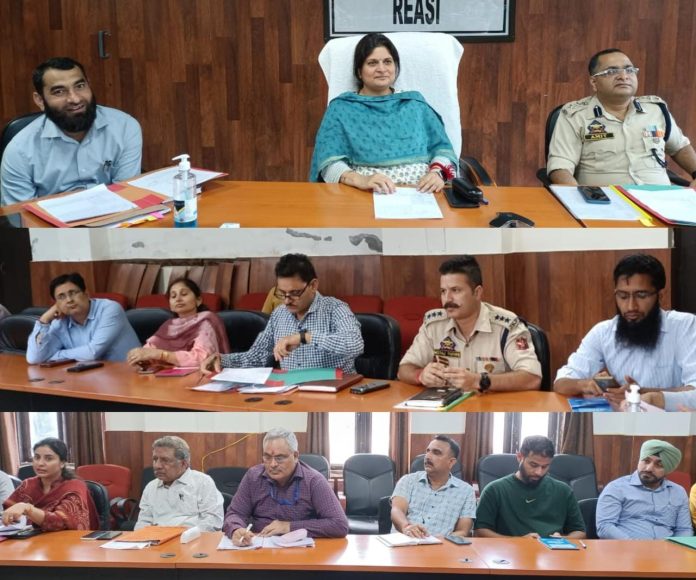 REASI: Deputy Commissioner Reasi, Babila Rakwal today chaired the district-level committee meeting under the Narco Coordination Centre (NCORD) here in the DC office to discuss the measures to curb drug abuse and narcotic trade in the district.
The meeting discussed various issues related to the incidence of drug addiction, areas of concern, and hot spots of drugs in the district. The meeting also discussed the action taken on directions issued in the previous meeting of NCORD.
DDC asked officers of all line departments to make coordinated efforts to contain the drug peddling and break the supply chain besides taking stringent action against the persons involved in this dangerous trade.
The DDC said that collective efforts are needed to curb the drug menace and all stakeholders shall have to work in tandem to enhance the rehabilitation of persons involved in drug abuse.
SSP Reasi also emphasized on effective functioning of Addiction Treatment facility Centres to fight against drug addiction and mitigate the sufferings of the drugs affected persons. SSP also sought cooperation from the families particularly from parents to overcome the menace among the youth which also leads to other social evils and crimes. He also laid trust on ensuring proper counselling and rehabilitation for individuals struggling with addiction.
The meeting was attended by SSP, Amit Gupta, ADC Abdual Star, ACR Reasi, Tehsildar Reasi, CEO, social welfare officer, District Drugs Controller officer and other concerned officers and officials.