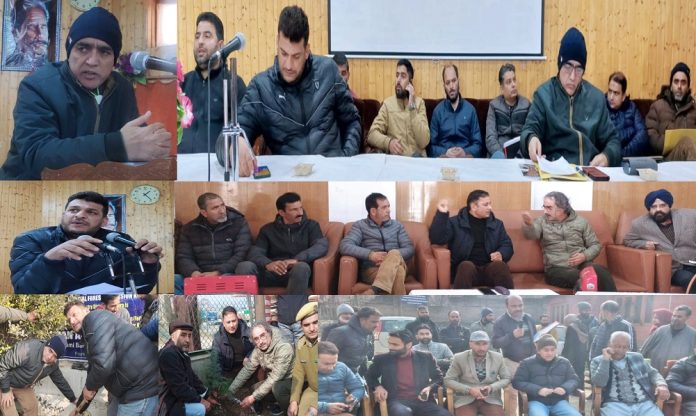 KUPWARA: The District Administration Kupwara today carried out various activities in Municipal Council Kupwara, Municipal Committee Handwara and Municipal Committee Langate during the third consecutive day of Jan Abhiyan under 'My Town My Pride' (MTMP), Phase-2. 
At MC Kupwara, the ADDC Kupwara, Altaf Ahmad Khan chaired the Jan Abhiyan function in which Chairman Municipal Council Kupwara, Reyaz Ahmad Mir, officers from line departments, field functionaries and people in large numbers participated.
Addressing the function, the ADDC said that the aim of holding Jan Abhiyan under My Town My Pride initiative is to outline the role and responsibilities of various departments for saturation of their deliverables.
He directed the concerned officers to reach out to the people and provide mass awareness of their schemes besides ensuring cent percent coverage of the beneficiaries during the 'My Town My Pride' programme.
Chairman MC also spoke and appealed to the people to take benefit of the ambitious 'My Town My Pride' programme.
During the Jan Abhiyan function, the officers and representatives from line departments provided detailed awareness to the participants about the schemes of their concerned departments.
Various stalls were also installed at Town Hall Kupwara which were inspected by the ADDC. He also enquired about the progress of schemes provided by the departments and directed them to ensure cent percent coverage under the schemes.
Later, a Plantation drive was held in the compound of Town Hall in which ADDC Kupwara and Chairman MC took part.
In Handwara, Jan Abhiyan event was held at Town Hall Handwara which was chaired by ADC Handwara, Nazir Ahmad Mir. President MC Handwara, Masroor Ahmad Banday, Officers from line departments and people took part in the function. A plantation drive was also held during the Jan Abhiyan.
Jan Abhiyan was also held at Langate in which President MC Langate, Shahnawaz Abdullah, officers from line departments and people took part.
During the Jan Abhiyan events, detailed awareness were also provided about various beneficiary oriented schemes/plans including PMAY (U) and PM SVANIDHI, City Livelihood plan, City Smart Vending, Encroachment free town plan, City Tourism and Culture plan, Resource Mobilization plan, City Beautification Plan and Green City plan.