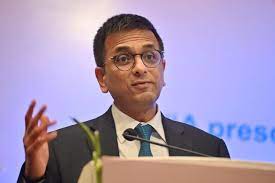 NEW DELHI: Maintaining that courts were speaking truth to power, Chief Justice of India DY Chandrachud on Saturday defended the Collegium system of appointing judges, saying it was aimed at protecting the independence of the judiciary.
"No system is perfect. But the object was to protect the independence of the judiciary, which is a cardinal value. We have to insulate the judiciary from outside influences if the judiciary has to be independent, the CJI said at a conclave of a TV channel here.
Explaining the criteria for the selection of judges, he said merit and professional competence, seniority, broader sense of inclusion and diversity, and adequate representation to different High Courts, states and regions were taken into account for judicial appointments in High Courts and the Supreme Court. "But that's not at the cost of sacrificing merit," he said.
The CJI's defence of the Collegium system has come at a time when the government and the judiciary have been at loggerheads over judicial appointments with the former sitting over recommendations of the Collegium in several cases and the Supreme Court taking strong exception to the government's stand.
On separation of powers, the CJI said, "There is absolutely no issue; we are constantly holding the government to account… Courts are speaking truth to power… Governments are also not concerned with it so long as they know their field of demarcation and we know ours."
Responding to Law Minister Kiren Rijiju's statement expressing displeasure over the Supreme Court Collegium making public the reports of the Intelligence Bureau and the Research & Analysis Wing (RAW) that formed the basis of the government not approving the names of certain candidates, including gay lawyer Saurabh Kirpal, recommended for appointment as judges, the CJI said he didn't want to join issue with the Law Minister.
Terming the January 2018 press meet by four senior-most judges of the SC "the most unfortunate thing" to happen in the history of the Indian judiciary, former CJI SA Bobde said, "I tried my best to not let it happen. I tried to mediate and was partially successful."