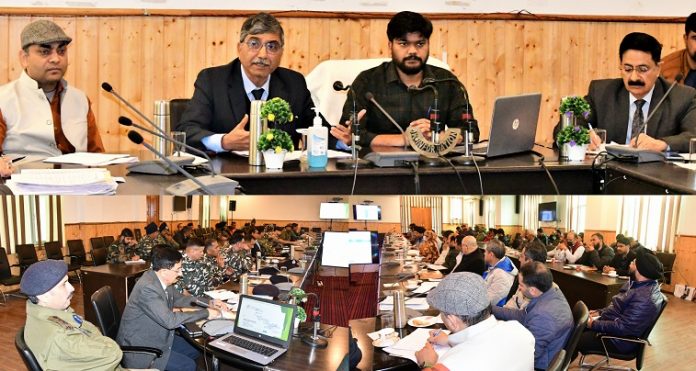 GANDERBAL: The National Disaster Management Authority (NDMA) in collaboration with J&K SEOC and SDMA today conducted Coordination cum Orientation conference ahead of Shri Amarnath Ji Yatra-2022 (SAJY) via Baltal axis at Conference Hall of Mini Secretariat, here.
The meeting was presided over by the Deputy Commissioner (DC) Ganderbal, Shyambir; Additional Deputy Commissioner Ganderbal, Farooq Ahmad Baba and Maj Gen. Dr. A.K Naik,
At the outset, a detailed presentation was given by Nodal officer SDMA regarding Disaster Management Plan and preparedness for SAJY-2022. He gave a brief overview on the vulnerability to Hazards including cloud bursts, heavy rain, landslides, earthquake, stampede, fire accidents besides response system, evacuation, shelters and common alert protocol.
Presentation was also given by a representative of IMD on forecast of weather updates as local climatic conditions change frequently and hourly.
Other departments including R&B, Jal Shakti, I&FC, Health, KPDCL, NDRF and other stakeholders also gave presentations regarding their preparedness for SAJY-2022 and contingency plan to tackle any eventuality during the yatra.
During the meeting, thorough discussion was held regarding the preparedness of all stakeholders involved in the management of yatra and their efforts to improve preparedness and response mechanisms for various disasters.
While addressing the participants, the DC highlighted the role and responsibilities of the concerned stakeholders and stressed upon all to further improve preparedness and response mechanisms for various disasters during yatra.
Dr. V K Naik highlighted the challenges during Yatra and how to manage major incidents. He stressed for well planning, better coordination and better response among various participating agencies and urged upon all the officers to identify gaps, prepare objective tasks, challenges, resources, problem areas and remedial measures to be taken in case of any disaster.
The officers/officials were sensitized how to plan for efficient and effective disaster preparedness besides how to focus to manage emergencies and how to handle the situation during exigencies.
Among others the meeting was attended by Camp Directors, ASP Ganderbal, Feroz Yehya, CEO SDA, SDM Kangan and CMO besides other officers from civil, police, SDRF, NDRF and security agencies.