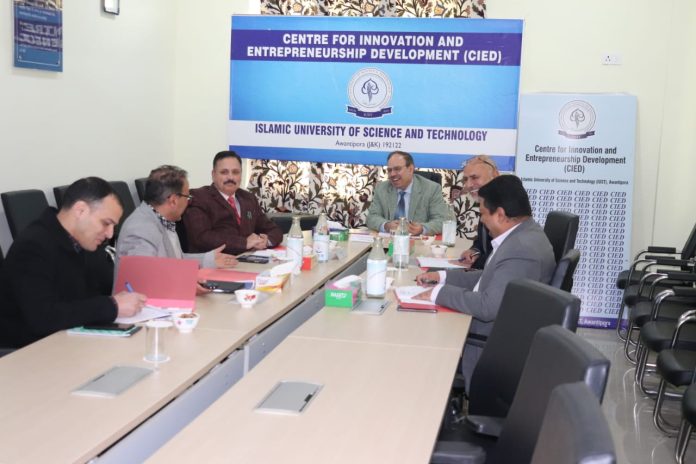 Awantipora: The second meeting of the Board of Directors of  CIED IUST Foundation was held at Islamic University of Science and Technology, Awantipora today. The meeting held under the Chairmanship of  Prof Shakil Ahamd Romshoo, Vice Chancellor IUST (also Chair of CIED IUST Foundation) was attended by Dr. Parvez Ahmad Mir (CEO), Prof Naseer Iqbal (Director), Mr. Sameer Wazir (Director), and Prof A.H Moon (special invitee).
The participants deliberated upon the developments made by the Foundation since the first Board meeting and discussed plans for the Foundation for the coming year. The issues pertaining to financial and hand-holding support to Startups and forthcoming programmes to nurture innovation and entrepreneurial spirit among the youth were also discussed at length. Dr. Parvez Mir informed the board about performance made with respect to the IIC (Institution Innovation Council, an initiative under the MoE, Government of India) parameters and prescribed activity calendar.
Prof Shakil Ahmad Romshoo emphasized setting actionable goals for the Foundation and collaborating with incubation centers and industries to further nurture the Startup ecosystem.