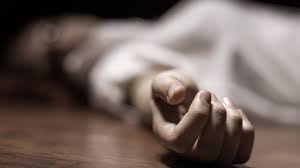 Accused arrested and confessed crime, say SSP Sopore
SOPORE: A 'drug addict' son killed his elderly mother in Dangerpora village of Sopore in north Kashmir's on Wednesday night.
The accused Showket Ahmed who strangulated his mother to death was a chronic drug addict and was taken by police in preventive custody several times, locals told the news agency—Kashmir News Observer (KNO).
"Around 11:30 pm, Showket knocked on our door and was carrying with an iron rod in his hand. We got panicked especially my wife who had undergone a surgery yesterday. Showket told me there are some unknown men at his home but noticing him under the influence of drugs, I pushed him away and locked the door again," said Showket's brother, Mushtaq Ahmed, who resides next to mother's house.
He said Showkat threw stones on front side of their home breaking window glasses. His mother Ayesha Apa tried to stop him but he asked her to stay silent.
"Showkat told her to shut her mother else he will hang her. Shortly afterwards, I heard Ayesha Aapa (my mother) screaming and I came out and started calling neighbours," he added.
According to him, it was dark when they reached the crime spot "But Showket pelted stones on us to prevent us from moving ahead. Two civilians approached us saying Army is calling people one by one. We went outside and after thorough enquiry and narrating the scene, army men accompanied us to the spot but we didn't find anyone at first. After searches we found Aapa (mother) near a well with a broken door on her in a bid to conceal his crime," he said.
He said that soldiers helped them take the body to Sopore hospital where she was declared brought dead.
Senior Superintendent of Police (SSP), Sopore Shabir Nawab told KNO that the accused killed mother when he was under the influence of drugs.
"The person is a staunch drug addict. The accused has confessed his crime," the SSP said. Adding that a case in this regard has already been registered and the accused is in police custody.