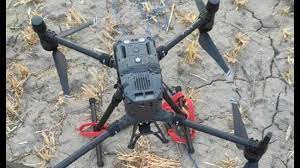 CHANDIGARH: The Border Security Force shot down a drone that was smuggling in contraband from Pakistan in the Amritsar sector in the wee hours of Friday.
"On the intervening night of February 2-3 at about 2.30am, alert BSF troops shot down a Pakistani drone which had intruded into the area of responsibility of Rear Kakkar Border Outpost in Amritsar sector, a BSF officer said.
The drone has been recovered on Friday morning between the border fence and the Zero Line. A packet of contraband, wrapped in yellow polythene, has also been recovered.
A search of the area is being undertaken.
This is the third incident of cross-border smuggling in Punjab sector over the past two days.
On February 1, the BSF recovered 2.6kg narcotics, suspected to be heroin that was believed to be dropped by a drone along the International Border in Fazilka sector.
The BSF troops had fired at a drone near Mumbeke village and later recovered three packets of contraband, along with a blinker device, from a wheat field near the village.
On January 31, a BSF area domination patrol had recovered three packets, containing about 1.76 kg of narcotics, near Maboke village in the Ferozepur sector.