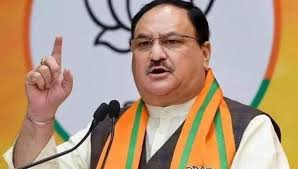 NEW DELHI: The BJP's central election committee chaired by party president JP Nadda and attended by Prime Minister Narendra Modi has cleared candidates for all 60 Assembly seats for the Meghalaya elections a situation no different from the 2018's when the BJP had decided to go it alone.
In the last elections, the BJP had contested 47 seats and won two, joining the ruling alliance led by the National People's Party's Conrad Sangma later.
The party, meanwhile, will contest 20 out of 60 seats in Nagaland in alliance with its current partner National Democratic Progressive Party (NDPP).
Nalin Kohli, BJP's Nagaland incharge, told the media the ruling United Democratic Alliance partners the NDPP and the BJP would contest 40 and 20 seats, respectively, as they did in 2018.
"Broad stability and development over five years, absence of a credible opposition, attempts to address the decade-old Naga political issue and PM Modi-led development agenda for the northeast will see us through," he said.
BJP secretary and northeast co-incharge Rituraj Sinha said the party would contest the Meghalaya elections under the campaign tagline of "M-Power" (Modi power).